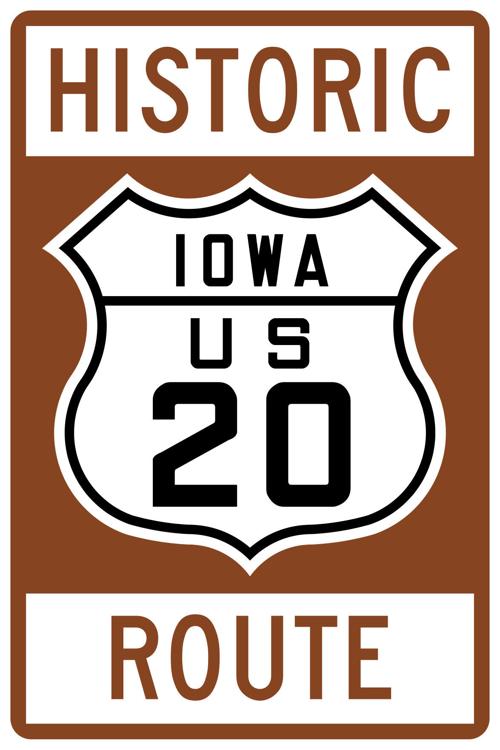 CEDAR FALLS — The City Council has launched the city on a historic quest — on a historic road.
Council members last week unanimously approved a resolution supporting the placement of historic sights along old U.S. Highway 20's route through the city in 1927.
It's part of a movement to get "historic" Highway 20 markers across the state and the U.S.
The request was submitted by Kim Manning of the Cedar Falls Tourism and Visitors Bureau
"We are members of the Historic U.S. Route 20 Association and believe participation in the association, the marking of the route and ongoing promotion will generate additional tourism in our community," Manning said.
You have free articles remaining.
Brandy Ripley of the Sac County Economic & Tourism Development Commission in Wall Lake is involved in the Iowa effort
"It looks like we're getting a lot of support," she said, and it's possible Iowa would be the first state to have the historic route designated all the way across the state—an expanse of nearly 300 miles between Dubuque and Sioux City. According to organizers, communities along the route must individually agree to the designation.
So far, the governing bodies of five of the seven counties and more than 20 of the 33 cities along U.S. Highway 20 have approved resolutions of support, according to a Historic Route 20 Association newsletter.
The route has historic significance according to the resolution approved by the council, U.S. Highway 20 was created in 1926 from Boston to Yellowstone National Park and eventually extended to Oregon. At one point, it was the longest highway in the country.
Whille U.S. Highway 20 has moved several times over the decades— there are several "old Highway 20s" — the organization is focusing on the 1926 route. In Cedar Falls, that may have included portions of Lincoln and West First streets. But Burger said the exact route has yet to be determined or designated. The Iowa Department of Transportation would help identify the old route, under the resolution adopted by the City Council.
U.S. Highway 20 was widened to four lanes and relocated to the south of the Waterloo-Cedar Falls metro area in the 1980s as part of the federal interstate highway substitution program that totally revamped the metro highway system. Much of old two-lane Highway 20 passed through the middle of communities rather than bypassing them.
"Maybe we can become the next Route 66" Manning said, referring to a famous historic national highway also created about the same time as U.S. 20.