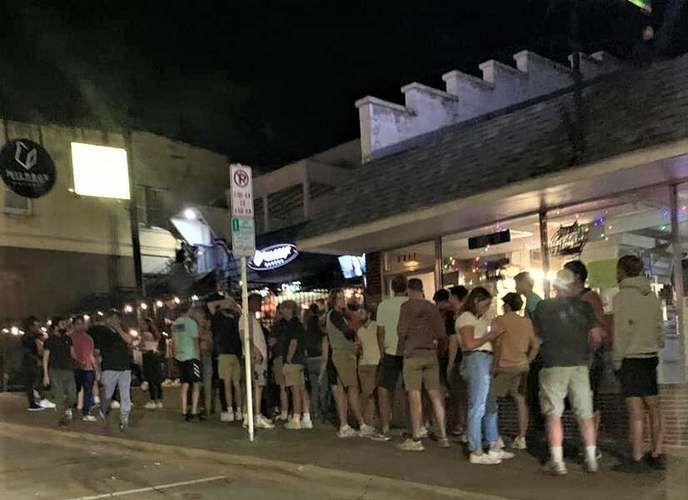 CEDAR FALLS — Saying they wanted a mask mandate to focus on education, not enforcement, City Council members nonetheless couldn't come up with an immediate solution at a nonvoting work session Wednesday.
The only Cedar Falls council member outright opposed to anything approaching a mask mandate in the city was at-large member Dave Sires.
"I'm just so against making laws against people's freedoms," Sires said, noting he was against telling businesses what to do, and thought the council should also go back to in-person meetings. "When somebody's fear infringes on somebody's freedom, I have a problem with that."
But other council members who spoke at the work session were at least willing to take a look at a mandate, similar to those passed in other cities like Waterloo, Des Moines and Dubuque, or the other university towns of Iowa City and Ames, the latter of which was drafting their own ordinance.
Gov. Kim Reynolds has not issued a statewide mask mandate.
"I don't wish to upset anybody's businesses or take anybody's freedoms, but at the same time we need to recognize there's another side to that discussion," said at-large member Kelly Dunn. "We are here, especially the at-large people, to represent all citizens of our city."
Ward 5 council member Frank Darrah agreed with others who said they thought the City Council should stake out a position on the issue, whether that was a mandate or simply a recommendation.
"I want to say to businesses, I'm not about a mandate either," Darrah said. "The last thing we want to do is hurt their businesses. But to me, intervening now is going to help them keep their businesses open."
Kathryn Sogard, executive director of the College Hill Partnership, sent a letter to The Courier on Wednesday evening asking for such a mandate, saying businesses were otherwise not "on an even playing field" with one another. Because of the timing, it wasn't clear if members of the council had read it prior to the meeting.
"Shifting this leadership obligation onto individual citizens, small businesses and organizations such as ours results in a leadership void and is unwise," Sogard wrote on behalf of the Partnership. "Having no mandate leaves these practices up to each visitor who chooses to head to the Hill or any other place."
Sogard's letter was written in response to photos of long lines outside of College Hill bars recently, prompting University of Northern Iowa President Mark Nook to issue a strong rebuke of students gathering in close proximity during the ongoing coronavirus pandemic.
Ward 1 council member Mark Miller said he thought an ordinance, rather than a resolution, would at least have the possibility of a fine, whether it was ultimately enforced or not, and might make people more likely to comply and even willing to patronize businesses again.
"You all have been getting the same emails I'm getting from the number of people who aren't going out — they're not spending money at businesses because they don't feel comfortable," Miller said.
Ward 4 council member Simon Harding said he believed some type of stance from council would "take pressure off businesses" as well.
"It doesn't matter what we do today, we're going to wake up with angry emails tomorrow," Harding said. "I think we're going to have to say yes or no."
Ultimately, with time running out before a scheduled planning and zoning commission meeting, the council agreed to have another work session next week to continue the discussion.
"Just basic empathy for the other side — that's an aspect that is really missing right now," Mayor Rob Green said. "I would encourage that, and that's something I can certainly promote and engage with right away to bridge some of these divides."
Concerned about COVID-19?
Sign up now to get the most recent coronavirus headlines and other important local and national news sent to your email inbox daily.