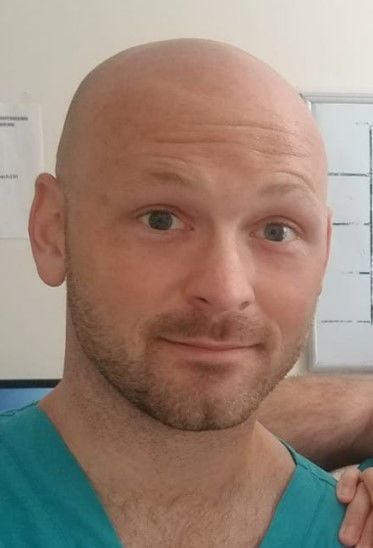 WATERLOO — Dr. Alex Ulfers knows he is in the middle of a pandemic in the heart of Queens, N.Y.
As senior resident in OB-GYN at St. John's Episcopal Hospital and Trinitas Regional in Elizabeth, N.J., Ulfers looks around him and sees hardworking medical professionals putting their heads together and daily doing what they were trained to do — help the sick or keep the healthy from getting sick.
Ulfers, 31, a graduate of Cedar Falls High School, is not entirely on the front lines of the COVID-19 outbreak in New York. But it doesn't mean that he is not impacted. The New York Times said the city and its suburbs account for roughly 5% of global coronavirus cases.
St. John's has virtually locked down the OB-GYN unit for expectant mothers to keep the virus from infecting new moms and babies.
"We are our own little bubble in the hospital. We have locked our doors. We have limited people who can come in. One support person is allowed with the mom through delivery and discharge," Ulfers said. Other New York hospitals have locked down OB-GYN units entirely, allowing no support help for moms.
He said the medical staff is tired, but motivated. "We are very flexible and are rolling with the punches as they come in order to get the job done."
In an effort to keep new moms and babies safe, the hospital has established new guidelines on discharges — moving vaginal and C-section discharges up by a day. "Being in a hospital is a higher risk" than being home, he said.
All elective surgeries are now canceled, so women with tubal ligations and vaginal bleeding issues have been canceled in an effort to keep surgical masks and gowns available for those who really need it.
He said St. John's is actively looking for rooms they can convert back from offices to hospital rooms. The OB-GYN clinic in the hospital is in an old ward that they are looking at converting to medical-surgical floors.
He said he now carries his surgery masks with him in bags for the entire day to use on the same patient in an effort to conserve equipment.
As far as living in midtown Manhattan during the pandemic, he said the city is very quiet. "If feels dead. It's hard not to know something is going on. The general feel is very different. In the hospital, that is amplified," he said.
Overall, he is proud of his fellow medical professionals during this time. They have come together during the crisis "to make it work. They (hospital personnel) are doing a great job keeping us informed. This is exactly what we were trained to do. When it gets tough, you gotta get going," Ulfers said.
Ulfers is scheduled to be done with residency at the end of June and was accepted for a stint at Yakota Air Force Base in Toyko. But the pandemic has put things in flux. He can't take his board exams in April as was scheduled and his Air Force assignment may get changed as well.
Get local news delivered to your inbox!
Subscribe to our Daily Headlines newsletter.