CEDAR FALLS — The heartland Cain and Abel story of the Mark murders will be the focus of an upcoming episode of "A Crime to Remember" on the Investigation Discovery channel.
Titled "Black Sheep," the episode airs at 9 p.m. Saturday and re-enacts the crime and investigation of the Nov. 1, 1975, slayings of Leslie and Jorjean Mark and their two young children in rural Cedar Falls. Leslie's brother, Jerry Mark, was convicted of the murders and is serving four consecutive life sentences at the Iowa State Penitentiary in Fort Madison.
The show, known for bringing big-screen production values to the TV screen, also will feature interviews with "Brother's Blood" author Scott Cawelti and prosecuting attorney Dave Dutton.
Cawelti hopes "it captures the essence of the story. The murders sent shock waves throughout Cedar Falls and Iowa, and it's still talked about today."
It was one of the most horrifying murders in Iowa history. Leslie and Jorjean were 25 at the time of their deaths, and their children, Julie and Jeff, were 5 and 21 months respectively.
The author is impressed the show does considerable in-depth research on a crime before dramatizing it in a screenplay, casting actors, locating a set and filming it like a movie. "I was surprised at how thorough and quite well done the research is," said the Courier columnist and retired professor emeritus at the University of Northern Iowa in Cedar Falls.
Cawelti's book about the Mark murders was published in 2011, although he'd been
working on it in fits and starts since 1980. Cawelti attended school with  Jerry Mark at Cedar Falls High School and interviewed the convicted killer in prison four years after his conviction.
You have free articles remaining.
The TV show's producer found a copy of "Brother's Blood" at a New York book story. Cawelti was later contacted and flown to New York City along with Dutton to discuss the murders. Earlier Cawelti sent the show a box of his own research materials.
"My interview lasted about two hours. I'd been sent 30 or 35 questions about the story that had been gathered from the research I sent. I sort of knew what was going to be asked, so I'd prepared myself, and I was ready with some good answers, I think," he says.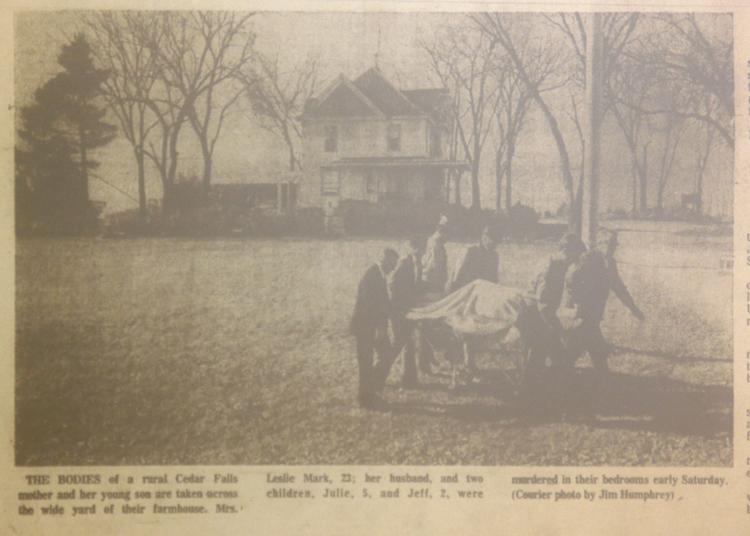 Dutton's interview lasted about as long. Questions were asked off-camera, but their responses will factor into the narrative during the episode. "Frankly, I'm a little worried. I have no idea how it came out. It's such a complex and multilayered story about the horror of family murders and the investigation — really a crime to remember," Cawelti said.
Jerry Mark was arrested nine days after the murders and was convicted in 1976. He continues to protest his innocence and has exhausted his appeals.
"Brother's Blood" has been optioned for a big-screen movie by actor/director Michael Mosley, who attended Cedar Falls High School. He plans to star as Jerry Mark in the movie.
Mosley, who attended the American Academy of Dramatic Arts in New York City, has starred in such shows as "The Proposal" and "27 Dresses," and on TV in "Scrubs," "Castle" and "Longmire," among many others.
The project is still evolving, with Mosley purchasing the rights every 18 months. The actor is well-versed in the story and has come to Cedar Falls on three occasions to interview the author.
Cawelti will discuss his book, the movie and Investigation Discovery TV show at 2 p.m. April 8 at the Cedar Falls Public Library. His presentation is part of the ongoing Cedar Falls history series.