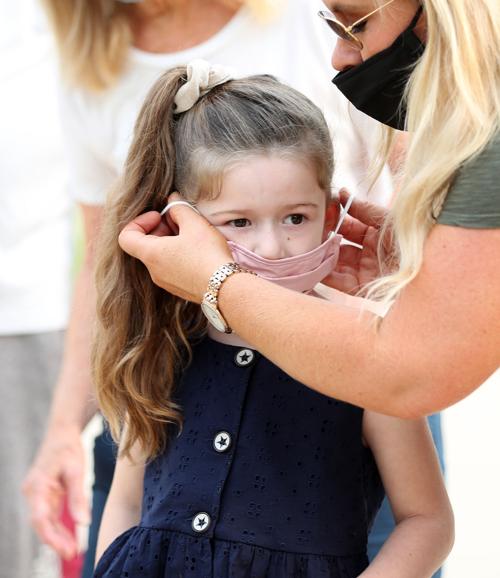 CEDAR FALLS — Despite concerns from the public about whether masks are effective at curbing coronavirus spread, the City Council on Monday night extended its mandate through Dec. 9.
The council voted 4-2 to prolong its mask order, first enacted Sept. 8. Council members Susan deBuhr and Dave Sires dissented, as they did in September. Ward 3 member Daryl Kruse — who originally voted against the mandate — was absent.
University of Northern Iowa President Mark Nook sent a letter to the council asking it to extend the mandate until a vaccine is "readily available." He reiterated that request during public comments, saying that among hundreds of UNI students exposed to someone who tested positive, less than 1% contracted the virus — which he attributed to mask wearing.
"From our own data, we see that a mask ordinance really is effective at limiting the spread of the virus and allowing us to keep our businesses, our schools and our community open and functioning," he said.
Resident Penny Popp said she believed continuing the mandate would help Cedar Falls "get us back to some type of normal life and activities."
Resident T.J. Frein questioned what metrics the council was relying on to extend the mandate, and said more exceptions should be offered, including allowing people to ride in cars together without masks. He called for a "safety exemption" for banks and convenience stores to protect nervous tellers and clerks.
"They feel a little uncomfortable with people with masks coming into the store because of the potential for violence," Frein said. He said the council should "respect private business decisions as well as private citizen decisions."
Resident Mark Iehl asked why there isn't also a "hand-washing mandate," and spoke about possible false positive tests and changing guidance.
"I'm not opposed to doing what we can to protect the vulnerable among us, but are there any database criteria for continuing or discontinuing the mask mandate?" Iehl asked.
Mayor Rob Green noted the council had taken guidance from the Black Hawk County Health Department as well as the Iowa Department of Public Health and the CDC.
Green said his decision to suspend in-person council meetings came after the Harvard Global Health Scale found the county's 7-day average of cases spike upwards to more than 25 cases per 100,000, what the scale calls a "tipping point."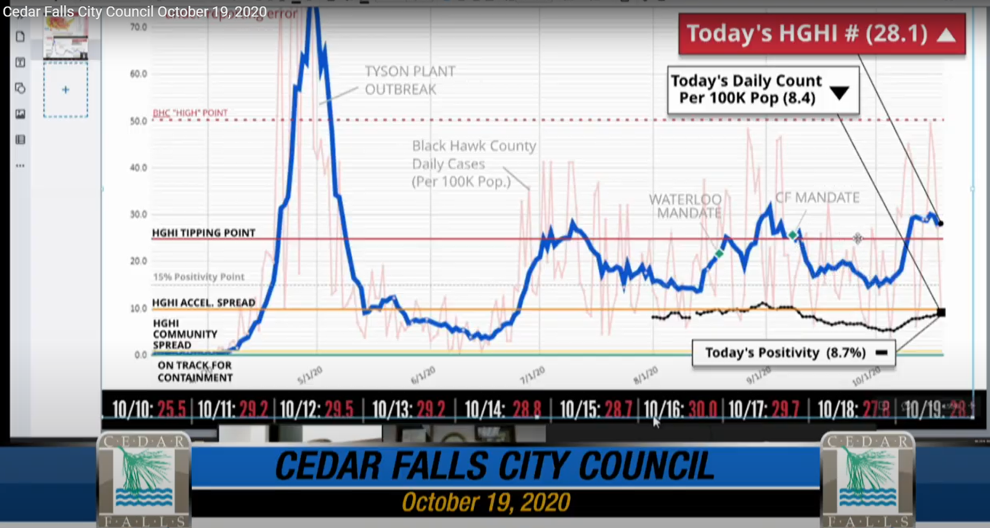 At-large council member Kelly Dunn proposed an amendment to tie the extension of the mandate to the introduction of a vaccine as Nook suggested, which she later withdrew for lack of support.
Council members Frank Darrah and Simon Harding were skeptical of tying the mandate to a vaccine.
"If people don't get the vaccine and the numbers stay high, it would be nice to go to a data-driven decision where cases are below a certain threshold," Harding said.
Ward 1 member Mark Miller said there is "still too much conflicting data" to tie a mandate to specific criteria.
"Much as I wish it could be based on a certain metric, I feel like we need to keep the mask mandate in place and revisit it again in six weeks," he said.