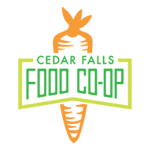 CEDAR FALLS — At a Facebook live event on Wednesday evening, board members of the Cedar Falls Food Co-op announced they will begin operating under a new name: Rooted Carrot Co-op Market.
The co-op, which has been steadily growing its membership in an effort to secure the necessary support and capital to open a full-service community-owned grocery store in Cedar Falls, announced the new name after a year-long process.
Board vice president Christine Sexton said the new name more accurately reflects the co-op's values. "We wanted to emphasize inclusivity and regional community over geographic boundaries, while still maintaining continuity with our existing brand" she said.
The co-op's current logo features a stylized carrot, which can be seen on T-shirts, yard signs, and online. Adding "Rooted" to the name demonstrates that the co-op is here to stay and is rooted in the community.
Because the co-op's impact and membership base extends beyond Cedar Falls, the board wanted to convey a more regional name. The co-op will feature local items, including meats, produce, honey, beer, and coffee, which are grown and produced from throughout the greater Cedar Valley region.
Board member Joy Thorson noted the co-op's membership spills well beyond the Cedar Falls city limits.
"Just over one-fourth of co-op members reside in zip codes other than 50613," she said. "Forty-six percent of those members live in Waterloo, Elk Run Heights, and Evansdale." Thorson said co-op members also live in Waverly, Janesville, Hudson, Independence, Dike, Grundy Center, Jesup, New Hampton, Tripoli, Traer, and other cities as well.
Last summer, the co-op solicited suggestions from its membership and the community, and ended up with over 100 suggestions. The board also sought advice from other food co-ops across the country, as well as other industry experts.
Jacqueline Hannah, assistant director at Food Cooperative Initiative, a consulting company that supports start-up food co-ops across the U.S., said the decision by the co-op is the right move.
"This co-op has been very meticulous in its decision-making process, and moving to a more regional name is a shrewd and smart decision on their part, especially as they look long-term for sustainable success," she said.
The board was clear that it's still working to open an 8,000-square-foot full-service grocery store in or near downtown Cedar Falls, but they pointed out that the grocery store is really the first step in a long-range plan that could include satellite locations, a food truck, or even additional sites in other communities in the region.
The co-op hopes to unveil a new logo in the near future.
Individuals interested in joining the co-op can do so online. Membership is purchasing a one-time, single share at $200. Payment plans are available.
Get local news delivered to your inbox!
Subscribe to our Daily Headlines newsletter.