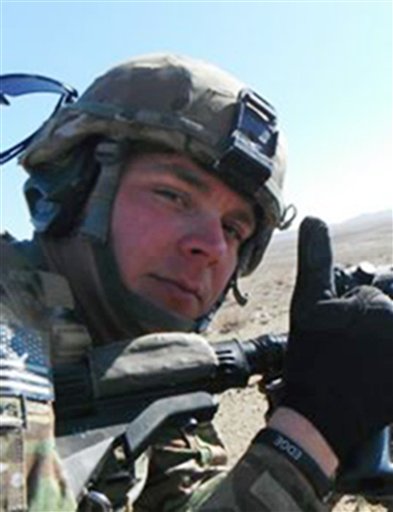 CASCADE, Iowa --- The parents of fallen soldier Michael Ristau said Friday that freedom is not free and they accept the cost.
"We don't feel he died in vain. We have it very good here because of people like him," the soldier's father, Randy Ristau, said during a news conference at City Hall.
It helps knowing "he died doing something he loved very much," his mother, Suzanne Ristau, said.
Army Sgt. Ristau, 25, was killed July 13 in Afghanistan's Qalat Zabul province when a roadside bomb impacted the vehicle in which he was riding, the Department of Defense said.
Suzanne Ristau said her family had been notified that two other soldiers were injured in the blast, one seriously.
She said her son got to spend only two weeks with his infant son, Hyle, before deploying in late December to Afghanistan with his unit, Company B, 5th Battalion, 20th Infantry Regiment, 3rd Stryker Brigade Combat Team. Ristau, who joined the Army in July 2004, shortly after he graduated from Lincoln's Challenge Academy in Rantoul, Ill., had served with the same unit in Iraq in 2006 and 2007.
The family is putting together a video with photographs of Michael Ristau to help his young son understand more about his father, she said. He is also survived by his wife Elizabeth of Tacoma, Wash., and another son, Bradley, 5, from an earlier marriage.
You have free articles remaining.
The Ristaus, who traveled to Dover Air Force Base in Delaware for the solemn and dignified transfer of their son's remains, said they were grateful for the outpouring of support from family, friends, neighbors and total strangers. They also expressed gratitude to the Iowa Army National Guard, and especially to Sgt. First Class Michael Brecht and Col. Greg Hapgood for shepherding them through the trying days after their son's death.
Since the Army has no bases in Iowa, the National Guard serves as liaison to families of deceased military personnel, Hapgood said.
Suzanne Ristau recalled that her son, while on leave in Cascade last fall, donned his uniform and accompanied his 8-year-old sister Halie, who wore her Girl Scout uniform while selling cookies door to door. "She was so proud," Suzanne Ristau said.
She also said Sgt. Ristau's brother, Christopher Powers, 21, of Dubuque, paid tribute to him by riding a bull last weekend at a rodeo in Tipton. "He lasted 4.2 seconds and escaped injury. It was his way of honoring his brother, who was passionate about bull riding," she said.
In addition to his family and bull riding, Sgt. Ristau "was passionate about his Army mission and his brothers in arms," his dad said.
Randy Ristau said his son was born in Manhattan, Kan., while he was serving in the Army, and that he grew up in Dubuque and Rockford, Ill. The family moved to Cascade in 2004, and Michael Ristau always spent his military leave in Cascade, "hanging out with the family, doing whatever we were doing," his dad said.
The Ristaus said funeral services for their son were pending. A memorial service will be held Aug. 4 in Cascade at a time yet to be determined. A military service will be held at a date to be determined near the soldier's base, Joint Base Lewis-McChord, near Tacoma, Wash.
"We know it's real, but it doesn't feel real yet. It will be real to us when we have the services in Washington," Suzanne Ristau said.