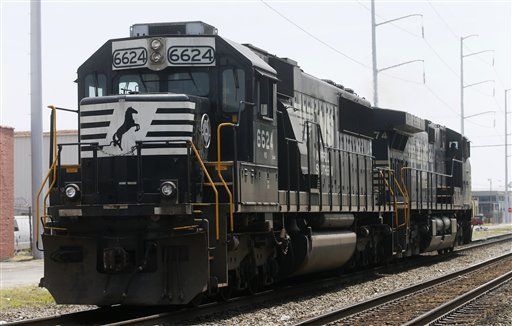 OMAHA, Neb. (AP) — Canadian Pacific plans to ask Norfolk Southern shareholders whether they want the two railroads to pursue a merger.
Canadian Pacific said Tuesday that it plans to submit a shareholder resolution on a possible deal at Norfolk Southern's annual meeting this spring. But it doesn't plan to nominate its own slate of directors to press the issue.
Norfolk Southern officials didn't immediately respond Tuesday afternoon.
Norfolk Southern has sternly rejected all of Canadian Pacific's takeover offers even as they approached roughly $30 billion. Norfolk Southern has said the offers have been so "grossly inadequate" that there wasn't much point in discussing a possible deal.
Canadian Pacific has said combining its railroad with Norfolk Southern would create a more efficient operation that could haul more freight and grow profits faster than either railroad could alone. CP also predicts it could cut roughly $1.8 billion in annual costs.
"Shareholders and analysts will be watching NS closely throughout 2016 and if they continue to underperform, the pressure to work with CP will only grow," said Harrison. "Our model performs in good times and bad, consistently driving shareholder value during the peaks and the valleys."
Norfolk Southern executives have said they believe the railroad will fare better if it remains independent. They have released their own plan to cut about $130 million in costs this year and more than $650 million in annual cost savings by 2020.
Canadian Pacific said it doesn't plan to ask Norfolk Southern shareholders to vote on its most-recent proposal. Instead, it will just ask them to support having the two railroads hold merger talks.
Even if the railroads agreed on a deal, the proposal would still have to clear major regulatory hurdles. The U.S. Surface Transportation Board hasn't approved any major rail mergers since it approved tough rules for them in 2001.
Norfolk Southern officials have said they don't believe regulators would approve such a merger, but Canadian Pacific officials remain optimistic a deal could be approved.
Shares of Norfolk Southern Corp., which is based in Norfolk, Virginia, closed at $71.42, up .93 percent Tuesday. Its shares are down 33 percent in the past year.