WATERLOO — Day care has gone to the dogs.
Camp Run-A-Mutt opened about four months ago at 3225 Airport Blvd. by owners Stefanie and Jim Hartel.
"We're excited to be the first Camp Run-A-Mutt in Iowa and the Midwest. It's a cage-free canine day care where dogs are treated like family, and they can be themselves," said Stefanie.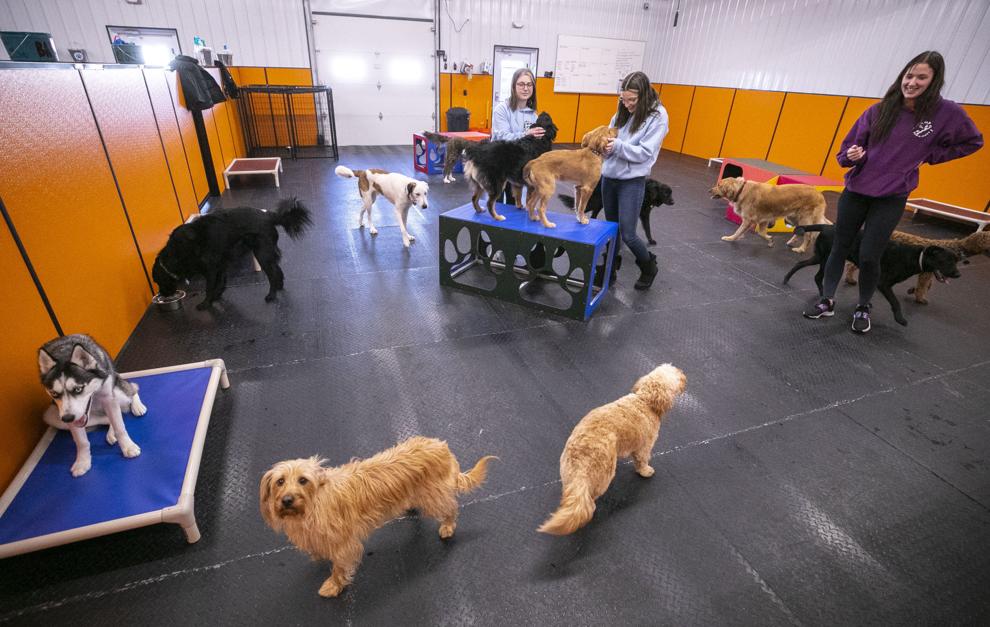 Golden retrievers, goldendoodles, Labrador retrievers, Siberian huskies and other four-legged campers of all breeds, shapes and sizes run, romp, fetch and play for hours at the large indoor-outdoor facility. When another camper arrives, it's all wriggling butts, wagging tails, sniffing noses and toothy grins as the newcomer is accepted into the pack.
Every day is recess for the dogs with trained staff as playground monitors, doling out the occasional gentle admonishment – "It's OK, everyone, settle down!" – and doling out belly rubs, head and ear scratches and loving pats to the pack. Campers can come for a half or whole day.
An Iowa native, Stefanie previously worked in health care marketing and management, and her husband is a pathologist at a local hospital. After searching for the perfect day care for their own fur babies, English bulldogs Winston and Walter, the dog-loving couple decided to open one themselves. They discovered the Camp Run-A-Mutt franchise, founded 12 years ago in San Diego, and were impressed by its cage-free philosophy.
"We know many dog parents let their dogs sleep with them in their beds, give them free run of the house and don't kennel their dogs when they leave them at home alone," Stefanie said. "We understand the stress that people feel about dropping off their dogs for the day, and we want the dogs to be happy and comfortable and feel loved.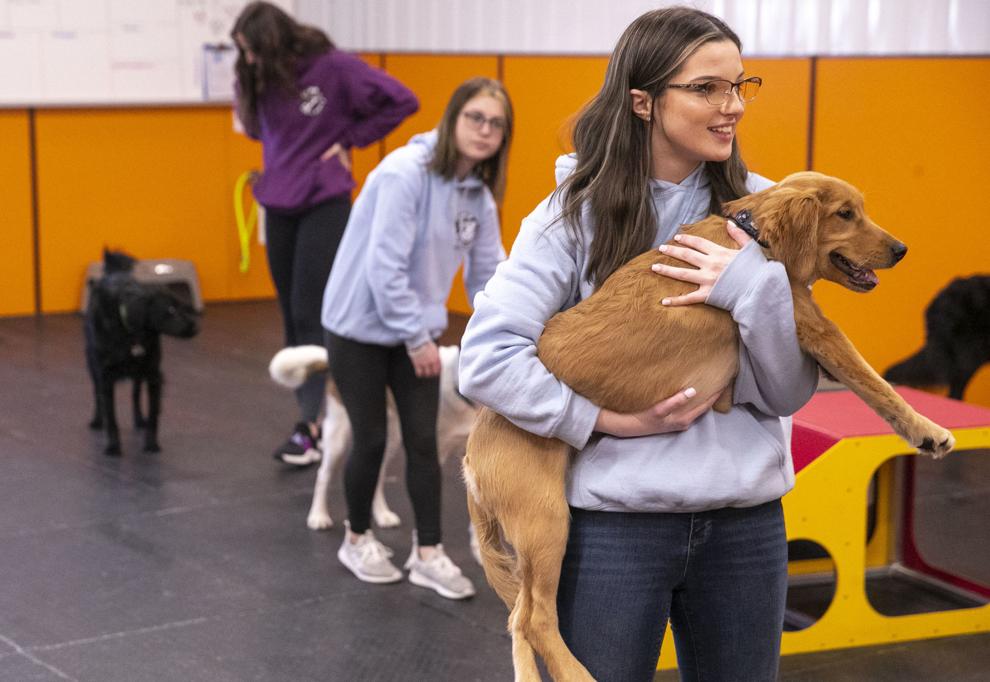 "Kenneling isn't for every dog. It can cause stress for dogs who haven't been conditioned to kenneling. Being cage free means the dogs can socialize and get exercise in a homelike environment. The dogs are never left unattended," she explained.
The camp boasts more than 9,000 square feet of play space, including three indoor and three outdoor play yards. Outdoor areas feature paw-friendly synthetic turf, and there's a splash pond for warmer months.
Balls, toys and other play options keep dogs busy and engaged. Agility equipment soon will be added. Dogs whose parents send them with lunch – kibble or wet food – are fed separately (no sharing or trading), and pets also can earn parent-approved treats. When the dogs are tuckered out, there's a quiet room filled with soft beds and blankets for them to cuddle up and nap. A staff member is always in attendance.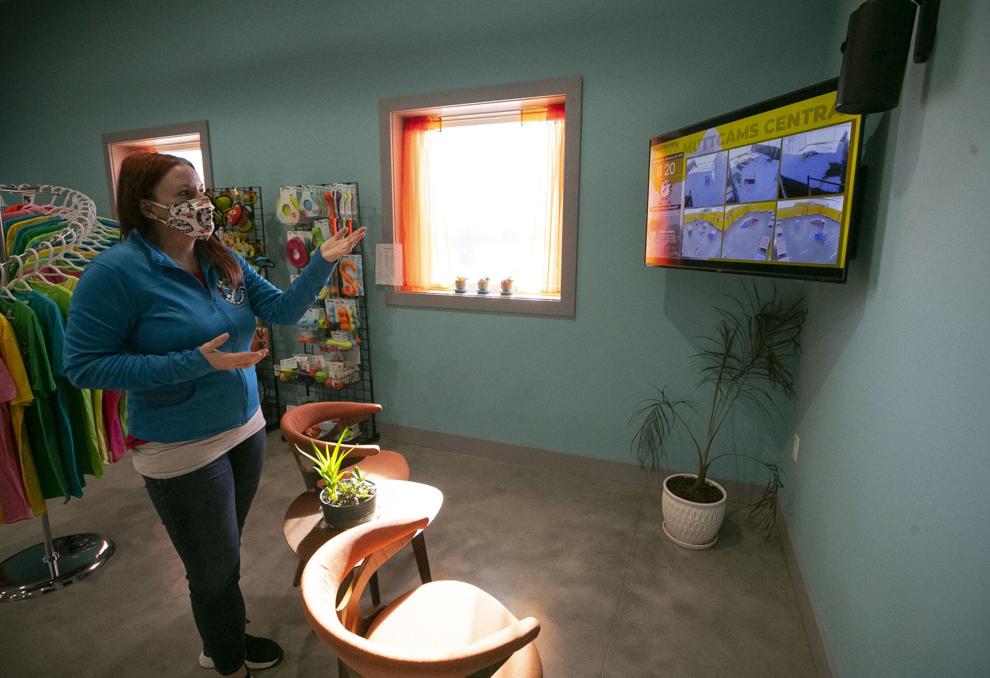 The dogs quickly get used to the routine, Stephanie said. "It's so cute to watch when a dog starts coming every day. They know who their friends are and go straight for them. That socialization and being part of the pack is important. We want our dogs to have a good, positive experience."
Pet parents easily become mesmerized by Muttcams, live-action cameras that allow parents to peek in on their pup having a good time. Muttcam can be livestreamed on Camp Run-A-Mutt website or on a mobile app.
"It's like reality TV. They can watch at work or wherever they're at and see what their fur baby is doing. This is part of our transparency," Stefanie explained.
In addition, Camp Run-A-Mutt will offer cage-free, fully supervised overnight boarding after a proposed change to Iowa state regulation is passed.
All dogs must have current vaccinations, including canine influenza, and all dogs over six months old must be spayed or neutered. Canine clients must pass a 15-minute temperament test that owners can watch on a monitor. Then the dog can join the pack. "Our staff is trained to be aware of behaviors, as well as techniques like redirection," Stefanie said.
Presently there are 10 staff members. "They have to learn each dog's name, characteristic, personality and temperament and get to know how they play," she said. Staff is trained in first aid and pet CPR.
Camp Run-A-Mutt offers grooming services and training using positive reinforcement techniques in partnership with Roxy Anderson and the Finishing School for Dogs.
The Hartels have formed partnerships with Den Herder Veterinary Hospital to offer vaccination clinics, etc., and the Camp Run-A-Mutt boutique sells treats and items from the Scoop Feed & Supply in Waterloo, as well as T-shirts, dog collars and leashes and more.