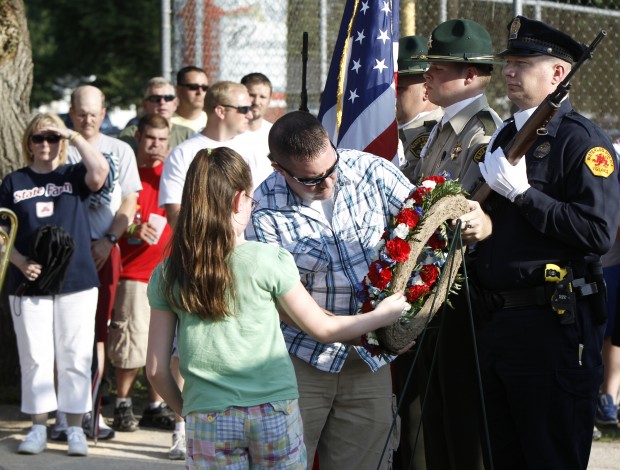 WATERLOO, Iowa --- A silent ceremony at the Hoing-Rice Softball Complex served as a reminder Friday evening of the men and sacrifices behind the facility's name.
The wreath laying and four-game tournament honored Wayne Rice and Michael Hoing, two Waterloo police officers shot and killed July 12, 1981. The event marked the 30th anniversary of the day the two lost their lives while on duty responding to a noise complaint.
James "T-Bone" Taylor is serving life in prison for their deaths.
A Black Hawk County sheriff's deputy involved in the manhunt for Taylor, William Mullikin, was killed in an auto accident days later.
Travis Hoing, Michael Hoing's son, and his niece, Melody Hoing, laid flowers at the memorial, which stands at the complex entrance. A color guard of Waterloo Police and Black Hawk County sheriff's staff presented the colors.
"It feels great to have people come out and remember him," Travis Hoing said. "It's not just a name out here. Every time people walk by, they know who it is."
A short tournament between two police department softball teams and teams of sheriff's staff and Waterloo Fire Department followed the ceremony.
One of the police teams, calling themselves the "old-timers," included three people who served with Hoing and Rice. Tim Pillack, a captain with the force, said the event was a great tribute to the officers.
"By having what we did today, it reminds people who the fields are named after," Pillack said.
Former Sheriff Mike Kubik, who umpired two of the tournament games for the Waterloo Softball Association, said it was hard to believe nearly 30 years have past since that day. Kubik was on duty when the two officers were shot and joined in the manhunt days later.
"I don't know where those 30 years went," Kubik said.
Pillack also said it hardly seems like three decades have gone by.
"When you think back on it, sometimes it seems like just a couple of years," he said.
He added events such as Friday's ceremony help ensure his colleagues' memory endures and that people remember they lost their lives in the line of duty.
"This will help make sure people won't forget Mike and Wayne," he said.