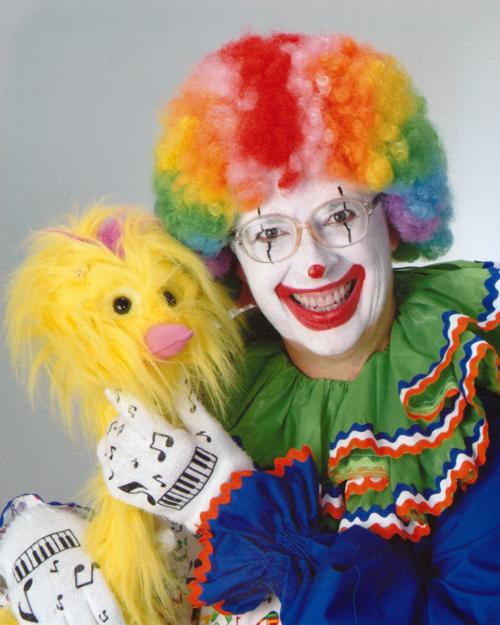 WATERLOO — When 40 to 100 youngsters gather three times annually for the Waterloo-Cedar Falls Symphony Orchestra's Lollipop Concerts, it's time to send in the clown.
Since 1981, Bubbles the Clown has been a calming influence at the concerts, helping to transform potentially squirmy children into a rapt audience.
Under the wild rainbow wig and costume is Barb Gregersen, a former preschool and elementary school teacher, and professor of Early Childhood Education at Hawkeye Community College, who has been a symphony season ticketholder since the 1970s.
As a member of the Symphony Guild, she answered the call to be a clown.
"I heard they were doing concerts to help introduce little kids to symphonic music in an approachable way," she recalled. "Clowns could make them feel more comfortable."
Gregersen made a costume and donned her multi-colored wig to become Bubbles and teach "concert etiquette" alongside her sidekick, "Babaloo," a yellow bird marionette.
"Children might be a little leery of me," she said, "but I've never had a child afraid of Babaloo. Some kids think it's Big Bird's baby brother."
Despite a challenge akin to herding cats, Bubbles' charges have been transfixed.
"Overall, we've never had a child who has been disruptive, like ran out of the audience and tried to get close to the musicians," Gregersen said. "There's not a lot of talking or wiggling around. I'm always quite amazed.
You have free articles remaining.
"We let the children know how they behave affects the musicians," she added.
She also credits "the musicians who know you don't give a 15-minute speech about your trumpet. They have played enough of these concerts that they have fine-tuned what the audience will tolerate."
Gracie, an apprentice clown, also known as Lucy Schipper, a Wartburg College musical therapy graduate, assists Bubbles.
They employ an ages-old technique of bribery to keep the children in line while experiencing the symphony's Petting Zoo — a chance to play with child-sized strings, horns and percussion instruments.
"Before they get their lollipops, they can try all these different kinds of instruments," Gregersen said. "Usually University of Northern Iowa music majors are there to sanitize the mouthpieces, and they're also there to show them how to create the sound.
"It's wonderful to see a 4-year-old get a note out of a trombone. I don't know how they do it. They will try every percussion until an adult drags them away."
After 25 years as Bubbles, the symphony surprised Gregersen in 2006 with a bouquet of roses and an ovation from parents and children.
"I didn't expect any acknowledgment," she said. "So many times kids have smiled at me. It's seeing the expressions on their faces when they hear the music. I'm the one getting so much joy."
Gregersen is not ready to hang up her wig "as long as I can still walk, and even then I could get a motorized wheelchair. I absolutely love interacting with the children."
The remaining Lollipop Concerts are Festive Brass, Saturday, Dec. 7 at 10 a.m., in the Gallagher-Bluedorn Performing Arts Center lobby, and Serenading Strings, Saturday, May 2, 2020 at 10 a.m., at the Cedar Falls Community Center, 528 Main St.
Both concerts will conclude with the interactive instrument Petting Zoo.