Augustana College will host, "Birth of the Computer: The John Atanasoff Story," 6 p.m. Thursday, Feb. 23, at Wallenberg Hall inside the Denkmann Memorial Building on the Augustana College campus.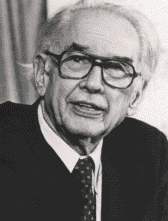 This event will look at the link between Rock Island and the invention of the first electronic digital computer by Iowa State physicist John Atanasoff, who spent an evening in Rock Island in the winter of 1937-38. While here, he came up with four concepts for his first computer that are still in use in today's computers.
There will be a panel discussion on Atanasoff. Panel presenters include Dr. Ashfaq Khokar, chair of electrical and computer engineering at Iowa State University; Mark Ridolfi, managing editor of the North Scott Press, who interviewed Atanasoff; and Shawn Beattie, manager of educational technology at the college.
Beattie helped bring the full-size replica of Atanasoff's computer to Augustana in 1998.
The event, sponsored by the college and the Davenport and Rock Island public libraries, will include a viewing of the documentary, "Atanasoff, Father of the Computer."
A reception will follow at Bent River Brewing Company, 512 24th St., Rock Island.