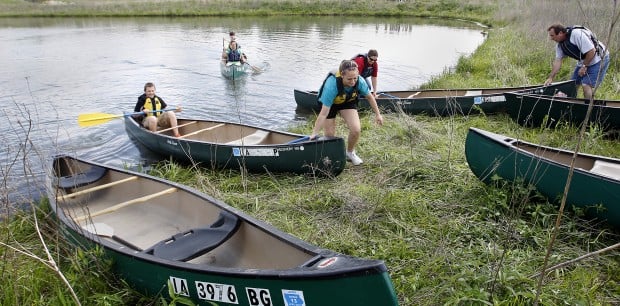 CEDAR FALLS, Iowa --- More than 1,000 area high school students got a hands-on look at what it means to be green Tuesday.
About 40 presenters, educators and community members from across the state participated in "Green: What Does it Mean? Exploring Our Sustainable Community" Tuesday at the University of Northern Iowa campus.
Students arrived by bus from Peet and Holmes junior highs, and Waverly-Shell Rock Community Schools for the five-hour event, presented by Cedar Valley Sustainability and Environmental Educators.
"It's important to talk to young ones because they're going to be responsible for what happens in the future," said Leon Lindley with the Black Hawk County Conservation Board.
Diverse topics were covered in a learning environment meant to be radically different from traditional classrooms. Students participated in outdoor activities and lectures designed to create a better understanding of their global impact and sustainabilty.
The kids enjoyed the outdoor opportunities from collecting insects to climbing the rock wall to learning about wind energy.
"It was a great experience. And we get to be outside all day," said ninth-grader Kanessa Pollard of Waverly-Shell Rock.
Abbi Roeding and Erika Ross said canoeing the wetlands at UNI was their favorite activity.
Another W-SR student, Ben Weidman, learned economical and green ways of farming.
"It was interesting, yet it was kind of funny because he put stories in it too," he said.
You have free articles remaining.
Keynote speaker for the event was Chad Pregracke of Living Lands and Waters, who founded the organization based in East Moline, Ill. Dedicated to cleaning up and preserving the nation's rivers, Pregracke, his crew, and more than 60,000 volunteers have collected more than 6 million pounds of debris.
"I was very pleased to hear so many good comments from presenters about students' level of knowledge," said Jenny Bruss, community and program outreach coordinator with Recycling and Reuse Technology Transfer Center. "There was some great interaction with students."
Lindley presented "Snakes, Turtles and Change," illustrated with a live snapping turtle and Fox snake.
"All snakes in Iowa are in a little bit of trouble because we've altered the habitat tremendously," he said.
In the state of Iowa there are only one-tenth of 1 percent of prairies left, 5 percent of wetlands and 27 percent of forests.
"This affects all the wildlife," Lindley said. "Everything we make and throw away means we're destroying habitat somewhere."
Katelyn Pedersen, UNI senior, and Stacy Fitzpatrick, Iowa State sophomore, represented Hansen's Dairy.
"We explained how we cut out the middle man ... goes straight from the farm in Hudson to our source," said Pedersen. "Milk could only be a few hours old before it comes to your table."
While the project took nearly a year to prepare, Bruss noted that it was a good starting run and hopes to expand to more area schools next year.
Close to 100 volunteers aided in the event.
"We are just overwhelmed at how wonderful the help was," Bruss said. "There was a huge community effort to reach out to these kids."