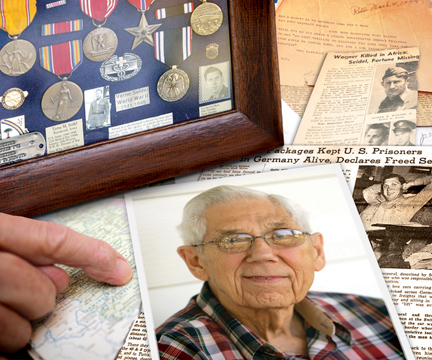 RAYMOND, Iowa --- Verne Seidel had an extended stay in Europe as a young man.
His accommodations were in a heatless barracks with bunks stacked three high.
His meals consisted of bread made from sawdust, bug-laden pea soup and vats of "coffee" brewed from tree bark that men would rather shave with because it was their only hot water all day.
His wake-up call frequently came from vicious German shepherd guard dogs.
Should any of his fellow "guests" try to "check out," those remaining would be forced to stand in formation for hours until the wayfaring tenants' whereabouts were accounted for.
Their "courtyard" was surrounded by guard towers, guns and barbed wire --- a security system not designed to keep others out, but to keep them in.
For more that two years, Seidel, of Raymond, was an extended-stay guest of Adolf Hitler's Third Reich.
A soldier with the Iowa Army National Guard, Seidel was captured at the battles of Faid and Kasserine passes in Tunisia in North Africa in February 1943. He spent the next two years in captivity, most of that in a German prisoner of war camp on the Polish border.
By the time he was released, he had lost 30 pounds --- and had fared better in captivity than some of his fellow prisoners. "I weighed 195 pounds. I probably ended up at 160," he said. "I think everybody lost weight for the first six months, until they let the Red Cross come in."
Seidel said their spirits were kept up by Red Cross food packages and by positive war news received via a contraband radio the prisoners had manufactured from stolen components --- not unlike the kind seen on the old "Hogan's Heroes" television show of the 1960s and '70s.
They also bartered cigarettes from their food packages with French work crews near the camp for other provisions.
"That was the mainstay of a lot of guys' food, actually," he said. "If you didn't smoke, you were really lucky.
"The sanitary conditions were just big outhouses. No water toilets whatsoever. Just a big outhouse with 20 or 30 stalls," he said.
Seidel, a Rath Packing Co. retiree who'll turn 93 next March, was drafted into the Guard in May 1941, seven months before Pearl Harbor. He was assigned to a medical detachment of the Iowa Guard's 168th Infantry, 34th Division, many of whose members were from central and southwest Iowa. They had shipped out over stormy seas from New York, to Belfast, Northern Ireland, to Glasgow, Scotland, to Liverpool, to Gibraltar and on to Algiers.
He and some 2,000 other Americans were captured in what historians recount as one of the first and costliest campaigns of the war for U.S. troops against the Nazis.
"We were assigned to protect this Faid pass," Seidel said. But the Americans were ill-matched for German Field Marshal Erwin Rommel's better-equipped, more-experienced Afrika Corps.
"It was miserable," Seidel said. "They just didn't have any chance against him. We would set up an aid station and take care of any casualties."
After several days of battle, the word was given to fall back. They were told to destroy all weapons except those they could carry, and were to march 20 miles to a rendezvous crossroads where trucks would pick them up.
"We walked all that night," Seidel said. "It was about 30 miles, actually. We went right by the Germans. It's amazing, because we could even hear them talking in their camp."
They reached the rendezvous point.
"There was a line of trucks there, but unfortunately, they were all German trucks," Seidel said. "They were lobbing mortar shells at us. We were quite a small group," about 30 soldiers," because many of us had gotten split up during the night. There was nothing we could do about it. As a result, we were captured."
Seidel and his comrades thought they were among the first captured but joined about 1,000 other prisoners in a detention area.
They were marched to the city of Tunis, flown to Sicily, then to Naples on the Italian mainland. From there they were shipped in World War I "40 and eight" rail boxcars to Rome, through the Alps to Germany.
"That was our home," for the trip, Seidel said."Oh, man. Standing-room only. No bathroom facilities. It was a miserable trek."
They were eventually assigned to Stalag 3-B prison camp near Furstenberg, Germany, about 50 kilometers from Berlin, on the Oder Canal near the Polish boarder. "That's where we slept the next two years," he said. "We had quite a few air raids come over."
Seidel's family back home had received a telegram that he was missing in action, and then that he was a prisoner of war. The POWs were given postcards twice a month to write notes home. The cards made it to the States; Seidel had a couple of them returned to him after the war and he keeps them to this day.
As bad as the Americans had it, a group of nearby Soviet prisoners who were ethnic Mongolians had it worse. "They really worked them over physically," Seidel said.
Seidel and some of his comrades were finally liberated as part of a prisoner exchange.
"One day, they came into our barracks and said 'You, you, you are being exchanged for German prisoners,'" he said. They were transported out under guard by rail passenger cars. Enroute to freedom, they sat out an Allied air raid in boxcars in Frankfurt. At Heldelberg, they were marched through the streets during an air raid, apparently in an attempt by the Nazis to boost German civilians' morale by showing American prisoners were still being held. Their trip also was held up because railroad tracks were being destroyed by the Allies. After about three weeks, they made their way to neural Switzerland, were turned over to U.S. troops in France and boarded a hospital ship from Marseilles to home.
"It was not very enjoyable," Seidel said of his captivity. "They (the Germans) could be very, very mean." If someone was missing in an escape attempt, the other prisoners were rousted into formation by attack dogs. "Rain, shine, snow, whatever, we had to stand there until they found whoever's missing," Seidel said.
While cleanliness problems persisted, after the Red Cross arrived, "at least we had food," Seidel said.
Seidel received the Prisoner of War and Bronze Star medals for his service.