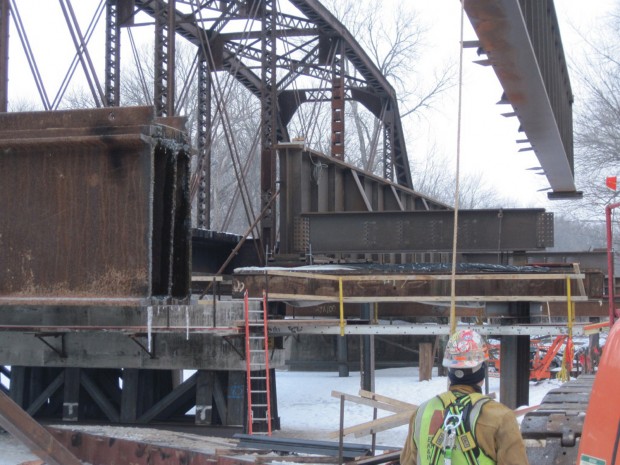 CEDAR FALLS, Iowa --- Iowa Northern Railway has updated one of its key bridges --- by more than a century.
The Cedar Rapids-based railroad, which carries grain and freight across northern Iowa and through the Cedar Valley, has just completed the replacement of its 1894-vintage bridge across the West Fork of the Cedar River just north of Cedar Falls.
The upgrade involved strengthening the span to allow heavier trains and more cumbersome freight --- including wind turbines --- to cross the river, said Joshua Sabin, Iowa Northern's director of administration.
"From a business sense, it gives us a flexibility we didn't have before," he said. "We're getting into more unique traffic and loads with wind turbine components, and this gives us more flexibility to bring that up to heavier weight standards."
The old span also had given way to erosion and decades of stress, Sabin said.
The new bridge, which had been under construction since October, opened March 3. Now freight flows freely and without diversion through Benton, Black Hawk, Bremer, Butler, Cerro Gordo, Floyd, Lynn and Worth counties, the railway said.
The bridge upgrade was the last link in a system-wide rehabilitation project, Sabin said.
"It was our last roadblock to handle more unique loads," he said.
Much of that "unique" traffic consists of parts of wind turbines, an increasing percentage of the railroad's business.
"Wind components and other related items certainly have grown with the greener industry and renewable fuels," he said.
The railroad also picks up and delivers grain and other products used at ethanol plants in the region, Sabin said.
It's only part of the evolution of rail shipping.
"What's also happened is customers and railroads want cars that can handle more," he said. "Many of our cars are smaller in size, and the rail industry is trying to get heavier loads in more cars."
The $1.1 million bridge-replacement project over the West Fork scuttled a dated span originally built in the 1870s for steam locomotives and replaced in 1894. The last major upgrade on the bridge occurred in 1938, said Bill Magee, the railroad's assistant general manager and technical expert.
"This was a truss bridge, and these bridges not only were restricted by weight limits but clearance," Magee said.
The bridge typically handles four to six trains each day, he said.
"Our business continues to grow, and we expect sooner than later we'll be running a second grain train through there in addition to what we're doing now," Magee said.
The West Fork bridge is Iowa Northern's second major bridge project in the Cedar Valley in recent years. The railroad spent $800,000 to replace, essentially, half of its span across the Cedar River in downtown Waterloo after it sustained heavy damage in the 2008 flood.
"The rebuilt portion is ready; the old portion not swept away and not completely damaged still needs the heavier weight upgrading, and we plan to do that soon," he said. "I am hoping it would be this year."