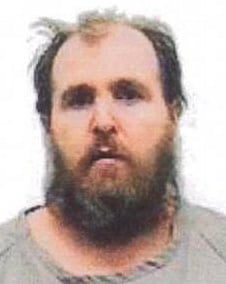 WATERLOO, Iowa --- Before he was charged in a 19-year-old killing in California, Brian Eric Norton lived in Jesup, Waterloo, Marion and Cedar Rapids.
According to the scant trail of court records he left, Norton held small jobs and got in minor trouble with the law after moving to Iowa in 1995.
"He kind of bounced around," said Jason Besler, the assistant Linn County attorney who prosecuted Norton last year when his small trouble became big trouble --- a rape charge that landed him in prison.
That conviction led police to connect Norton to the 1991 unsolved murder of Despina Magioudis in Redding, Calif.
Authorities in Redding are seeking to extradite Norton, who is serving time at the Iowa State Penitentiary, back to California where he could face the death penalty in Magioudis' slaying.
They said DNA collected from Norton when he checked in to prison matched genetic material found at the 1991 murder scene.
Norton was born in San Diego in 1967. He moved to the Redding area, now a town of about 90,000 located along Interstate 5 in north central California, in 1991 following relatives, according to Investigator Jon Poletski with the Redding Police Department.
At the time, Norton was married to a woman with Iowa ties, Poletski said. He worked landscaping and insulation jobs, and in May of that year the couple had a daughter, according to detectives and court records.
In August 1991, Magioudis, a 53-year-old mother of five, was passing through Redding on her way to a summer solstice observance at nearby Mount Shasta, Poletski said. He said she had applied for jobs in the area and stayed at a motel before moving in with a couple who lived in a travel trailer.
There was no evidence she knew Norton.
"We don't believe they had any knowledge of each other," Poletski said.
Then, on Aug. 10, 1991, not more than a few days after Magioudis' arrival in Redding, her body was found in an open field, according to Shasta County District Attorney Jerry Benito. She had been beaten and strangled.
She was face down with her dress pulled up around her waist. Poletski said she had been killed during a sexual assault, and she had been left where she was killed.
Police collected genetic material from her body, but there were no suspects to compare it against, authorities said. The DNA sequence was uploaded into a the national Combined DNA Index System database in 2001.
Norton remained in Redding for years after the slaying, and he was even arrested for minor crimes like drugs and theft.
Norton and his wife divorced in 1995 while still living in California, and they both moved to Buchanan County, Iowa, according to court records.
After about two years, his ex-wife began seeing someone else, and this allegedly upset Norton.
She petitioned the court for a restraining order in June 1997 after Norton, who was living in Jesup, allegedly showed up at her Independence apartment and threatened "physical bodily damage" to her and the other man.
They worked out a custody arrangement with the daughter later that month through the courts.
Then in August 1997 the ex-wife was back in court requesting Norton's visits with the daughter be supervised because of his "unstable mental health," court records state.
She said in court records that Norton was taken to the Covenant Medical Center psychiatric unit for an overdose and suicide attempt.
Norton caught the attention of police again in March 1998. Norton, who was then living in Waterloo, was spotted driving in a known drug area, and Waterloo police stopped and searched him.
Police found a pipe with crack residue in his coat pocket. He told the officer a passenger had given it to him. Norton and three others were arrested for possession of crack. He pleaded guilty and was sentenced to probation and a fine and ordered to complete drug treatment.
By 2000, Norton had left Black Hawk County and was living in Marion and Cedar Rapids, working for a department store and an insulation company.
He was arrested in December 2005 on allegations he sexually abused a minor in 2003 in Linn County, but a jury acquitted him of the charge in 2006.
A year later, Norton was back in custody for allegedly assaulting a female acquaintance and forcing her to have sex in Marion. He pleaded guilty to the domestic assault and third-degree sexual abuse in October 2009.
He was sentenced to up to 10 years in prison to be followed by lifetime parole.
On March 22, 2010, the CODIS database linked his DNA to samples taken in the California homicide, according to Redding police.
Because the death happened during a rape, Norton could be sentenced to death upon conviction, Benito said.