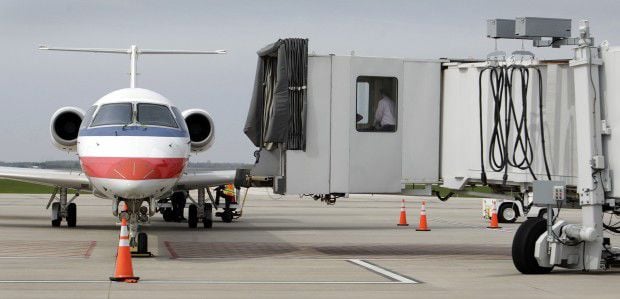 WATERLOO — American Airlines will continue serving Waterloo Regional Airport for another two years, officials confirmed Friday.
The U.S. Dept. of Transportation advised the airport and city of Waterloo it approved American Airlines for another two-year contract to continue air service between Waterloo and Chicago O'Hare International Airport effective May 1.
American has served as the sole airline at Waterloo Regional Airport since 2012.
"With approximately 450 daily departures, this reselection by the U.S. DOT continues to allow Cedar Valley passengers a seamless connection to an extensive number of domestic and international markets," Keith Kaspari, Waterloo Regional Airport director, said in a release. "I very much look forward to continuing an existing long-term relationship with officials at American."
Other community leaders heralded the news.
"As the mayor of Waterloo, I would like to take this opportunity to thank officials at the U.S. DOT for their support of providing scheduled air service to Waterloo and Iowa's Cedar Valley region via the Essential Air Service program," Mayor Quentin Hart said in a release.
"The Waterloo Regional Airport provides that critical air service link for both business and leisure travelers, and it is critical that Waterloo continues to stress the need to retain, improve and expand air service offerings," said Cary Darrah, CEO of Grow Cedar Valley, in the release. "The ability to have a reliable and dependable air service partner with American Airlines is critical to moving Waterloo and other Cedar Valley communities and businesses forward."
The news was a bright spot amid bad news for the airport: The airport has seen three straight years of a drop in passengers, and had one of its runways decommissioned by the Waterloo City Council last week.
Photos: Honor Flights
Another Honor Flight took off this morning, May 5, 2015, from Waterloo Regional Airport. Here's a look at the send off, and the pictures from Honor Flights past.
Get local news delivered to your inbox!
Subscribe to our Daily Headlines newsletter.