WATERLOO — Jack Bender was one of a kind, said long-time friend Lawn Griffiths.
Bender, a Waterloo native who gained national prominence for drawing and inking the beloved time-traveling caveman comic strip Alley Oop, died Jan. 5 in Tulsa, Okla., from complications of dementia.
"Jack was such a gentleman, a kind man and a good friend," said Griffiths, who grew up in Parkersburg and now resides in Arizona. "He took such pride in taking over that national cartoon," which Bender drew for 28 years.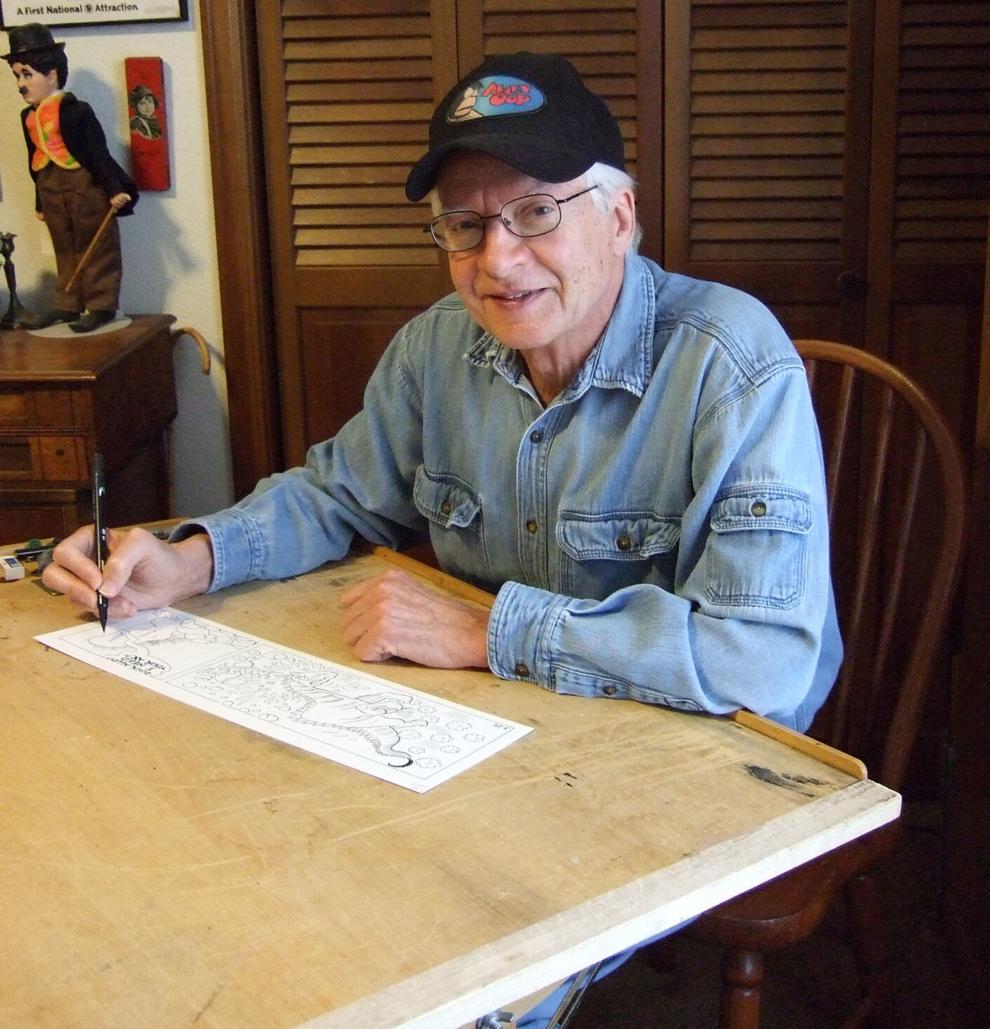 "He had a good ride, and he'll be missed," said Griffiths.
There will be no service. Family members ask that those who knew Bender and appreciated his work raise a glass in his memory.
Griffiths met Bender in The Courier newsroom where they both worked, forming a friendship that spanned more than 50 years.
"I really admired Jack. Week in and week out, he was he was able to draw cartoons about the news of the day, and he'd take time to draw cartoons about sports figures, high school standouts and could really capture the look of people," Griffiths said.
One of his prized possessions is the cartoon Bender drew of Griffith's "Rural Rover" coverage for the Courier.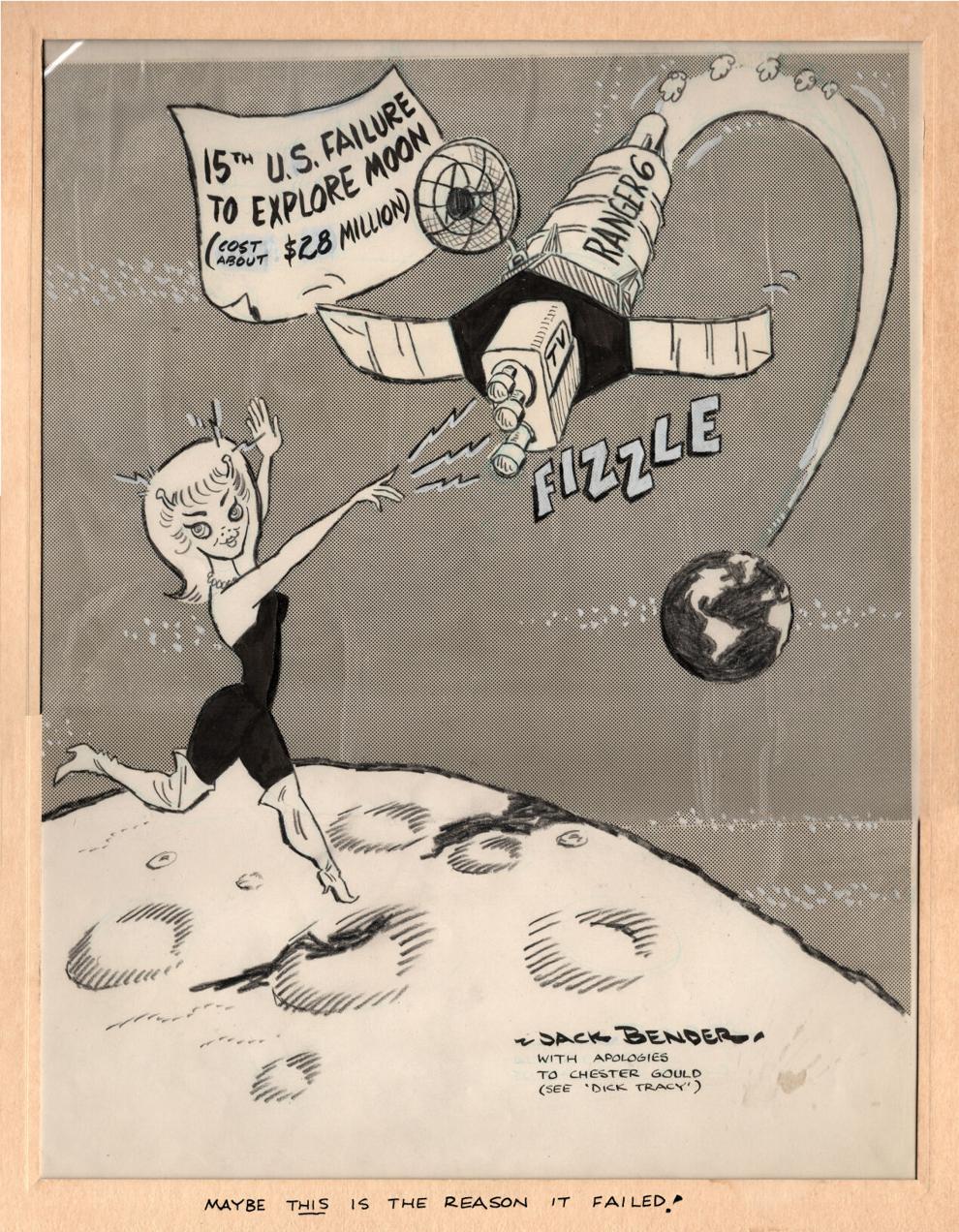 "I think Jack would like to be remembered as an artist who worked hard every day to do the best work he could," said Bender's wife, Carole. "He'd like knowing that he got his message across to his readers and that people enjoyed his work and will remember it and him fondly."
Tributes "have been pouring in," she said, particularly on Facebook, "before I posted anything. I finally, after a few days, got up the courage to post something. After I wrote his obituary, I shared it on Facebook and responses just flooded in. It's so amazing what people have to say about Jack, what they remember."
John Henry "Jack" Bender was born March 28, 1931, in Waterloo, the son of John Henry "Hank" and Wilma Lowe Bender. He was drawing trees and rabbits at age 3 and entertained himself for hours with paper and pencil, Bender said in a 2002 Courier interview.
He published his first sports cartoon in 1947. He was 15 and a sophomore at East High School. That summer, he was hired by The Courier to draw sports cartoons. After graduating in 1949, Bender enrolled at the University of Iowa in Iowa City while continuing as a Courier sports correspondent and cartoonist.

Bender earned his journalism degree from the U of I in 1953 and his master's degree from University of Missouri. He work as art director for a St. Louis company and later as an editor and cartoonist for the Florissant (Mo.) Reporter.
While at U of I, Bender joined the Air Force ROTC program and served during the Korean War as a radar controller at Perrin Air Force Base in Texas. He retired from the reserves after 30 years as a full colonel.
He returned to The Courier in 1962 where he worked as an editorial cartoonist, staff writer and associate editor until his retirement in 1984. In 1964, he collaborated with then-Waterloo Police Chief Robert Wright to design the department's "griffin" logo symbolizing vigilance. It was in use until 2021.
"Jack added character to The Courier sports pages for a number of years, and we always looked forward to Jack's cartoons each week," said retired sports editor Doug Newhoff.
Newhoff recalled that Bender could quickly turn around an illustration to go with a local prep of the week, or a feature story on a UNI or Iowa or Iowa State athlete.

Nancy Newhoff, former editor of The Courier, added, "Jack was always looked at as an icon in the newsroom. His talent was immense and highly sought after outside the news business. Even after he left, for years, we had people inquiring about him and how to get ahold of him because they would want him to illustrate something or someone for them."
He wrote and illustrated sports books, and from the mid-1970s to the early 1990s he contributed cartoons to Baseball Digest, Baseball Weekly, Football News and University of Iowa athletics. For 50 consecutive years, Bender's cartoons appeared in Hawkeye football programs each season.
"He loved doing sports portraits. He'd regularly hear from athletes who said they still had the portrait he did of them. He was blown away by that," said Carole.
She knew Jack for 31 years, and they were married for 27 years. "I'm 70, and with our age gap, Jack would say, 'Let's do what we want while I'm still able,' so we didn't waste any time. I think about all the good times we had. We'd save up our freelance money to go to England. We went 10 times and saw at least one play a day. If we went to the Globe for a matinee, it would be two plays a day," Carole recalled, laughing.
Friends felt lucky to be included on the Benders' Christmas card list.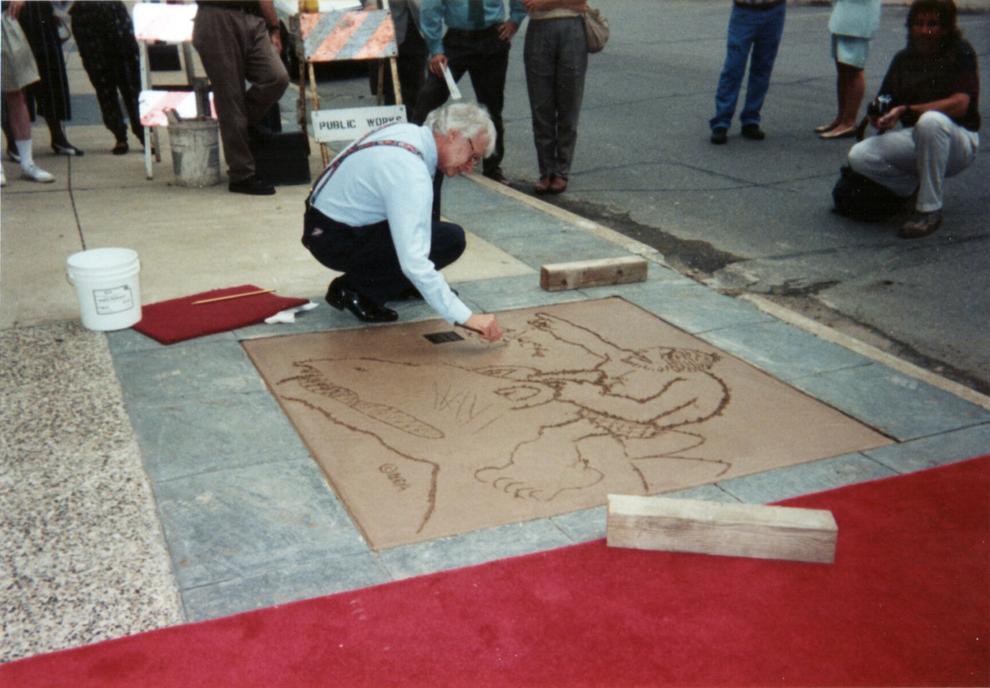 "They always sent the best Christmas cards. They'd do Alley Oop year-in-review comics. We still have some of them, including one for this past year," said Cedar Falls native Cydney Kelley of Chicago, an Emmy-winning TV writer and daughter of nationally known artist Gary Kelley.
The Kelleys lived near Bender's mom, Wilma Bender, in Cedar Falls. "I'd go over and play Scrabble with her, and I visited her every so often," said Cydney. The Kelleys and Jack and Carole Bender became friends, as well, and Cydney and Carole were pen pals.
Gary Kelley and Bender enjoyed talking about art and sports.
"I enjoyed looking at Jack's work, the way he drew and the ideas he put on paper. He was a good person, a friendly guy. I got to know him because of what I saw of his work in The Courier.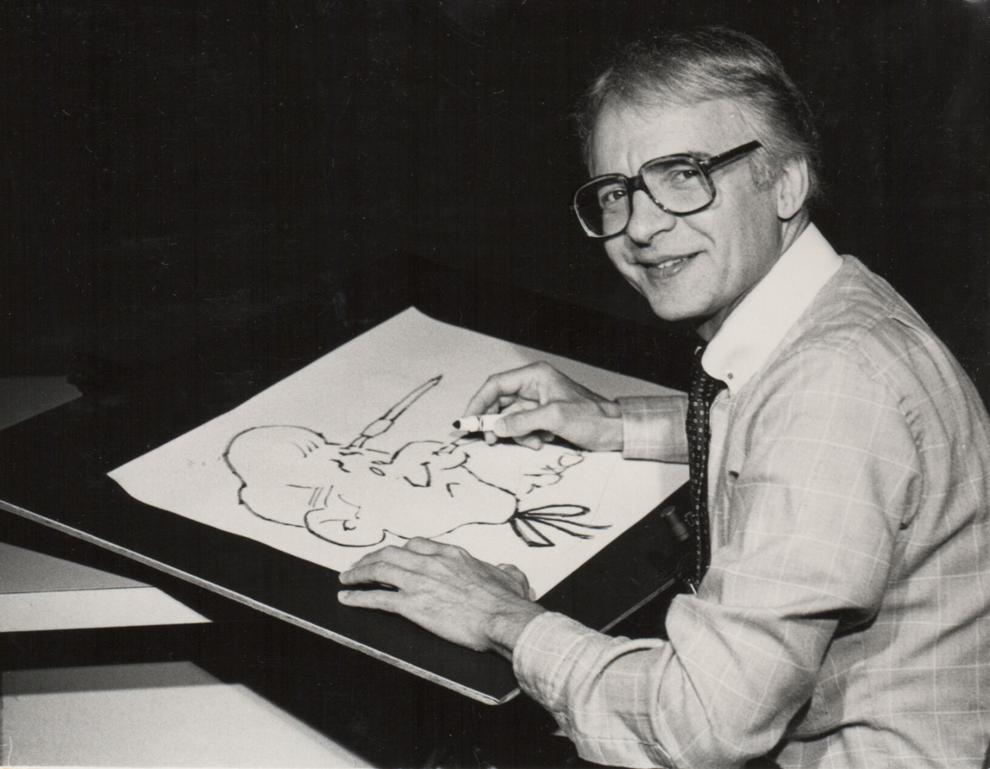 "For a guy that good to be able to have a feature regularly published in the paper felt special. Then I discovered his mother lived literally a block from us. We became very good friends," Kelley said.
Wilma and Cydney both posed for Kelley's illustrations in "Christmas of the Reddle Moon," the first picture book Kelley illustrated.
In the 1980s, Bender taught at Platt College in Tulsa for several years then launched his comic strip career, assisting Don Martin of Mad magazine to ink and letter The Nutheads from 1989 to 1992. In 1991, Bender began working with Dave Graue on Alley Oop and, at year's end, he became the strip's full-time artist.
Alley Oop was originated in 1933 by V.T. Hamlin, born in Perry, Iowa. Graue was his assistant and took over the strip in 1973. When Grau retired, Bender took over writing and drawing, signing his own name to the strip. He also plotted the story and Carole, an experienced calligrapher, wrote the dialogue.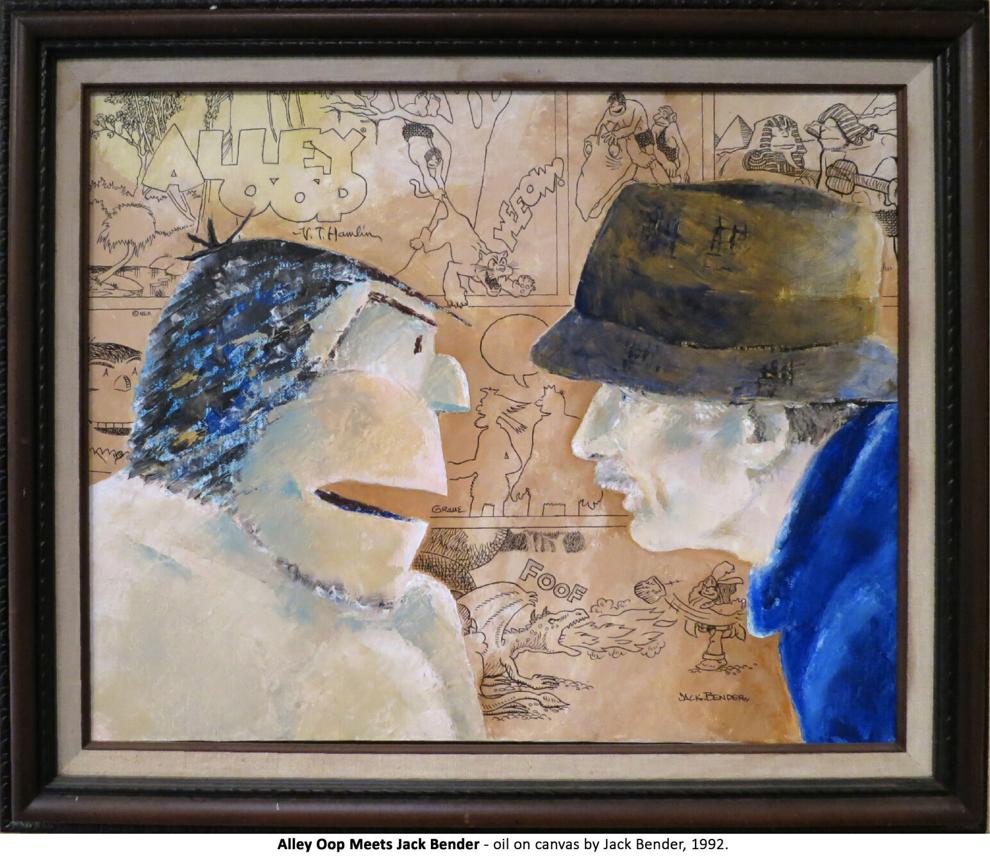 When the Benders retired 28 years later, the comic was being distributed in an estimated 600 newspapers and online.
Bender received numerous awards during his career, including the Orlando Con Ignatz Award for outstanding achievements in comics and cartooning. He was inducted into the Waterloo East High Hall of Fame and Oklahoma Cartoonists Hall of Fame.
In 1995, "Alley Oop" was part of a 20-set commemorative stamp collection released by the U.S. Postal Service and, in 1997, Bender was an honoree at Cedar Falls Community Main Street's "Names on Main" celebration. He sketched Alley Oop in cement and signed his name at the ceremony.
In 2002, a retrospective of Bender's work, "From Mickey Marty to Alley Oop: The Career of Cartoonist Jack Bender," opened at the Grout Museum of History and Science.
"Jack loved what he did so much – it was his passion, and he wanted people to enjoy what he did," said Carole. "He had a long life filled with creativity. That's his legacy."
Melody's memorable stories from 2022
It's like a being a parent asked to choose their favorite child. "They're all my favorites" is the standard response, or occasionally, "it depends on which day."
When reporters were asked to choose their five favorite stories for 2022, my first thought was "how do I narrow the list?" It came down to a good narrative and the joy and inspiration I got from the people I interviewed.
These are the stories that are closest to my heart.
University of Northern Iowa professor emeritus and former Courier columnist Scott Cawelti tipped me off about Phil Pirages. Pirages, 77, is one of the nation's most-respected rare book dealers and author of the new "Booked by Fate." Now an Oregonian, Pirages graduated from Cedar Falls High School and UNI in the 1960's. In our phone interview, Pirages described his "exotic" adventures in the esoteric world of medieval illuminated manuscripts, first editions and slightly tatty but charming collectible books. I could almost smell the sweet, musty old books as I wrote the story published earlier this month.
Cherie Dargan captured my imagination with the first heartwarming book in her five-part "Grandmother's Treasures" series, "The Gift." It was inspired by her marvelous collection of antique quilts and other heirlooms and the strong women in her family, especially her mom and aunts, who have been Dargan's lodestars.
Milo Mead's stunning domed clock cathedral was an impressive creation by the Cedar Falls woodworker. I wrote about the project last spring, detailing the 800 hours he spent drawing, designing, sawing and assembling the elaborate clock. It stands 5 ½ feet tall, measures 35 inches square, has multiple floors, detailed fretwork and a clock pendulum that chimes the hour.
In January, I wrote about Kevin Dill's inspiring work as an advocate for all forms of dementia. Dill was diagnosed with Lewy Body Dementia, a degenerative and progressive form of dementia, nearly four years ago. Since retiring as director of Black Hawk County Veterans Affairs, Dill has devoted his efforts to hosting golf tournaments and other events for Dementia Friendly Cedar Valley and veteran's projects. He also paints as a form of therapy and sells the artwork.
What could be more fun than hearing a bunch of young musicians mastering the monster guitar riff and raw power of AC/DC's "Back in Black"? In August, I covered Amp Camp, the innovative summer music camp that is UNI's version of "School of Rock." Kids learn to play guitar, bass, drums and keyboards and sing rock, hip-hop, R&B, country and pop music. They break into bands, and Mutual Shock blew me away with their enthusiasm and talent.