DES MOINES -- State health officials announced 96 new confirmed cases of coronavirus and four new deaths, as well as a seventh outbreak in a long-term care facility.
The state Wednesday also for the first time the state revealed racial disparities in coronavirus cases.
That brings Iowa's total to 1,995 positive cases in 82 counties.
The four additional deaths were one older adult between the ages of 61 and 80 in Allamakee County, one elderly adult over the age of 81 in Clayton County, one elderly adult in Polk County and one older adult in Johnson County. Iowa now has a total of 53 deaths.
The Clayton County Board of Health announced the death in their county on Tuesday.
Black Hawk County added seven cases Wednesday, making the total 85, while Tama County added three cases for a total of 111.
One additional outbreak in a long-term care facility was announced, this one at Wilton Retirement Community in Muscatine County, which has six cases among residents and staff. That brings the state's total long-term care facility outbreaks to seven.
Gov. Kim Reynolds said 49% of deaths statewide were related to those long-term care facility outbreaks.
She also noted an additional 900 coronavirus tests have been sent to a Tyson plant in Louisa County.
So far, the state is not releasing outbreaks at workplaces like the state's 18 meatpacking plants. But Reynolds said the state is working with plants to provide testing.
"We're going to continue to reach out and provide the testing that they need," Reynolds said.
There are currently six coronavirus outbreaks in long-term care facilities in five counties, encompassing 213 of Iowa's cases.
Linn County's Heritage Specialty Care is bearing the brunt of the caseload, with 104 cases among residents and staff.
There were 48 cases at Premiere Estates of Toledo in Tama County, 22 cases at On With Life in Polk County, 19 cases at McCreedy Home in Washington County, and six cases each at Bartels Lutheran Retirement Community in Bremer County, Trinity Center at Luther Park in Polk County and Wilton Retirement Community, according to IDPH.
IDPH has split Iowa into six regions to assess public health needs, and rates them on a scale of 0 to 12, with 10 or above leading to a shelter-in-place assessment.
Most of Northeast Iowa falls into Region 6, which also includes Linn County, and that region currently is at a 9 on the IDPH scale, the state's highest number. Four to nine points on the scale means a continuing of social distancing and mitigation efforts.
In Region 6, 171 people were currently hospitalized with COVID-19, with 78 of those patients in intensive care units and 43 on ventilators. The total number of ICU beds for the region is 533, with 718 ventilators available.
Statewide, 908 people have recovered from the virus.
For the first time, IDPH made available a racial breakdown in cases, mirroring trends nationally that show people of color were more likely to be diagnosed with coronavirus.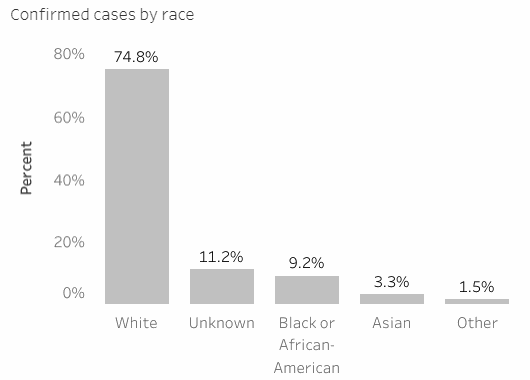 Though black Iowans are just 4% of the state's population, they currently make up 9.2% of Iowa's cases.
Similary, Asian Iowans make up 2.7% of the state, yet are 3.3% of coronavirus cases.
And Hispanic or Latinx Iowans, though they are 6.2% of the population, are more than 17% of the total number of cases.
Concerned about COVID-19?
Sign up now to get the most recent coronavirus headlines and other important local and national news sent to your email inbox daily.