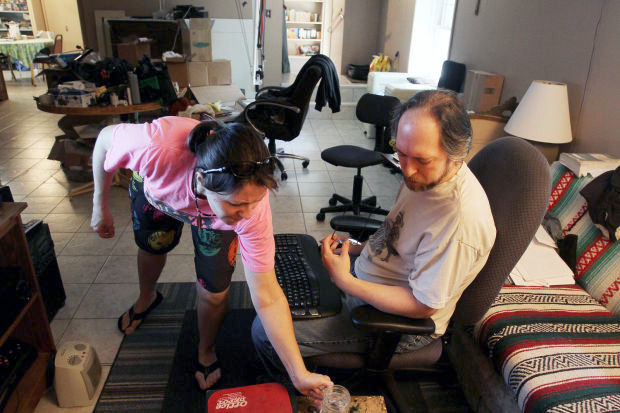 DAVENPORT | Benton Mackenzie, the 49-year-old terminal cancer patient who fought Scott County authorities over his efforts to grow marijuana for his own medicinal use, died early Monday at home.
As news of his 2014 trial attracted national attention, Mackenzie became a lighting rod for medical cannabis rights in Iowa, where the drug is still illegal with one exception for the treatment of epilepsy.
Meanwhile, his health was deteriorating. The baggy sweatpants he wore at his jury trial masked huge cancerous tumors covering his rear and right leg, a symptom of the angiosarcoma he was diagnosed with in 2011. He was rushed to an emergency room in the middle of his trial after he lost so much in the way of fluids that he became anemic.
Jurors were not allowed to hear any testimony about his health and convicted him and his wife, Loretta, for conspiring to grow marijuana. Their son, Cody, was convicted of drug possession. They all were sentenced to probation in September, and as his rare cancer progressed into the final stages, Benton Mackenzie spent the remaining months of 2014 mostly confined to a hospice bed at his parents' basement apartment in Long Grove.
Loretta Mackenzie said she had watched her husband's health seriously decline since New Year's Day, adding that he stopped eating and taking his pain medication over the weekend.
She and Cody stayed up Sunday night watching movies on the couch next to the hospice bed. Cody awoke his mother about 3 a.m.
"We stayed up together and toasted him," Loretta Mackenzie said. "It's so surreal. It's hard to say goodbye. I know he's not in there anymore. He's in heaven with his favorite relatives. I have to keep that in mind in order to yank the sadness out."
The couple met in Arizona and were married for 22 years. After his diagnosis, she became his caretaker. While he grew marijuana to create a medicinal oil that he could ingest and rub on his tumors, she was busy tending a vegetable garden, preparing meals, shopping and cleaning for her family as well as his elderly parents with whom they have lived since 2011.
She went to jail along with her husband after sheriff's deputies raided the home in 2013 and seized his plants. She faced the same charges as a co-conspirator even though he told deputies she had nothing to do with it. When given a chance to plead guilty and avoid trial and possible prison time, they both refused. She was convicted alongside her husband.