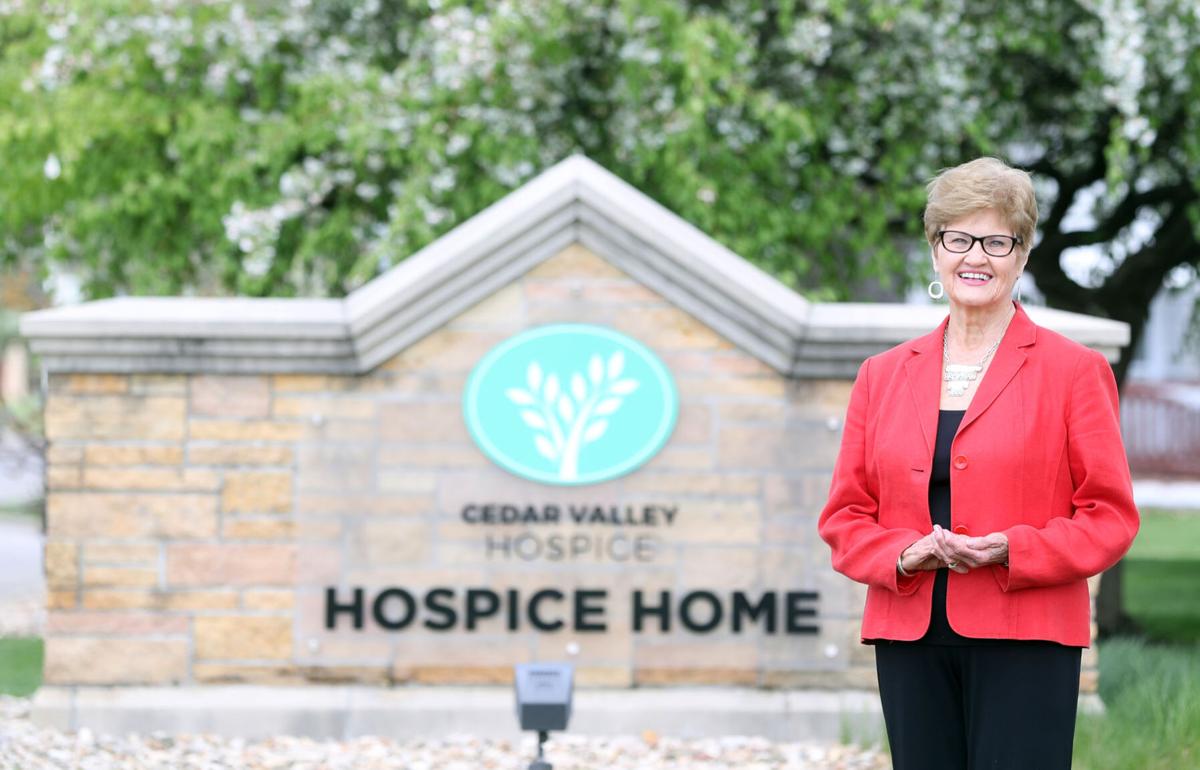 Fifth in a series on this year's Courier 8 Over 80 honorees.
WATERLOO — Browse a list of Cedar Valley arts and service organizations and you're likely to find the helping handprints of Karol Rae Hoth all over it. From St. Edward Church to Cedar Valley Hospice to Cedar Valley United Way, Hoth has spent most of her life lending her time and talents to those in need.
It's that lifetime of dedication that landed Hoth among this year's 8 Over 80 honorees.
"Karol Rae has served her community and her church in numerous capacities for decades. She's a go-to, get-it-done mover and shaker. She has left an indelible mark on the lives she has touched and on the community she has served," wrote Chris and Kathy Harshbarger, two among multiple people who nominated Hoth for the award.
Hoth has served on many community boards and committees, including St. Edward Board of Education, Junior League of Waterloo/Cedar Falls, Waterloo Center for the Arts Commission and Children's Theatre Board, Phelps Youth Pavilion campaign, Catholic Charities, Cedar Valley United Way, Black Hawk Area Religious Coalition, Adults Incorporated, Cedar Valley's Promise and others.
"I obviously am an extrovert," Hoth said, laughing. "I love the exchange of ideas and working with people on a vision and then being able to implement it. Whether it's the renovation of a church or the hospice home or the youth pavilion, there's an excitement in what it takes to coordinate people coming together for the common good."
Perhaps no handprint is as large as the one Hoth has left on Cedar Valley Hospice. She was one of a handful of people who spearheaded a grassroots committee in the 1970s to investigate and implement the hospice and program of care, making Cedar Valley Hospice one of the first hospice organizations in the nation, the Harshbargers said.
"Karol has been a passionate advocate for Cedar Valley Hospice for more than 40 years and has given hundreds of hours of volunteer time and many financial gifts to support the ongoing mission of the organization. … Forty-one years later, she is still an important part of the organization's success."
Hoth served as president of the Cedar Valley Hospice Board and was its first unpaid administrator. She helped establish the Iowa Hospice Organization, serving as its first president. When the AIDS crisis hit in the 1980s, Hoth worked diligently on the Cedar AIDS Support System committee to educate the public about HIV and AIDS. That program, as well as other services, is still in existence today.
Hoth worked with state legislators, leading the way for CV Hospice to become Medicare subsidized. That move allowed for paid staff positions at the organization. Today, Cedar Valley Hospice has a free-standing hospice home and 120 paid staff members and 450 volunteers who provide services in 15 counties.
"All of it was for the patients," Hoth said. "We wanted to know what is it you need and how can we help you? We believed so deeply that everyone should have access to hospice care. For me, it's deeply moving to see what it's become. We're 40 years later, helping 180 patients and families a day, continuing to be present for pain management and support."
Hoth has received numerous awards and honors for her philanthropic spirit over the years, including the Sertoma Club Service to Mankind Award, Mayor's Volunteer Award and the Clarke College Humanitarian Award for Distinguished Alumni.
"Because I was so blessed in my life I really believe the substance of a person is not only how we embrace the good in life but how we give back," she said. "We are called to serve, and the more we're given the more we're called to give."
At 81, Hoth wants to continue being of service.
"I've been in good health. One never can take that for granted. To continue to be involved is really a blessing."
"The more we're given, the more we're called to give."
— Karol Rae Hoth
"The more we're given, the more we're called to give." -- Karol Rae Hoth
Get local news delivered to your inbox!
Subscribe to our Daily Headlines newsletter.