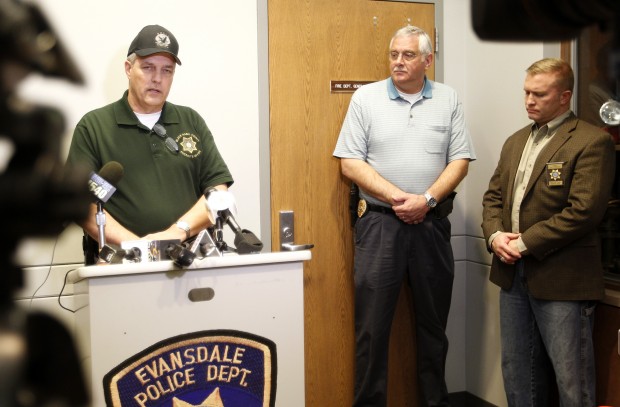 EVANSDALE, Iowa --- Evansdale's police chief hopes to know next week whether deceased sex offender Michael Klunder is linked to the slaying of two cousins who vanished last year while riding bikes.
Chief Kent Smock said investigators are retracing Klunder's steps in July, when 10-year-old Lyric Cook-Morrissey and 8-year-old Elizabeth Collins were abducted. Their bodies were found in December in a wildlife area in rural Bremer County.
Klunder's name didn't come up during the investigation into the girls' disappearance and deaths.
But Klunder caught investiagors' attention when he abducted a 12-year-old girl and 15-year-old Kathlynn Shepard in Dayton May 20 at a bus stop. He offered them a ride and a chance to make money mowing lawns.
The 12 year old later escaped, but Shepard remains missing. Klunder was found dead, apparently taking his secrets with him.
You have free articles remaining.
"Up until last Monday, his name wasn't on the radar. We didn't have any reason to believe he was in this area. Now we are trying to see if, in fact, he was, if there's evidence he was here," Smock said.
While authorities have been searching for Shepard and gathering information on last week's abduction, detectives working on the cousins case have been trying to piece together Klunder's whereabouts for the past nine months.
"We've got all the investigators out gathering their information, and then we have to compile it, look at it all and see if we have anything that says yes or no," Smock said.
"We are having to do a lot of things through subpoena and court order, which is normal, but it depends on how quick people get that information back to us. I know everybody is on pins and needles wanting to know something," Smock said.
Smock said investigators are checking Klunder's phone records and seeking other information.
Klunder was placed at Bremwood youth home in Waverly as a teen. In December 1991, he assaulted a female motorist after getting her to pull over. The following day, he abducted two 3-year-old girls from outside a Charles City apartment building and left them alive in a dumpster. That same year, he was sentenced to 41 years in prison and was released in February 2011.
At the time of his death, he was a registered sex offender and was living in Stratford and working at a hog confinement.