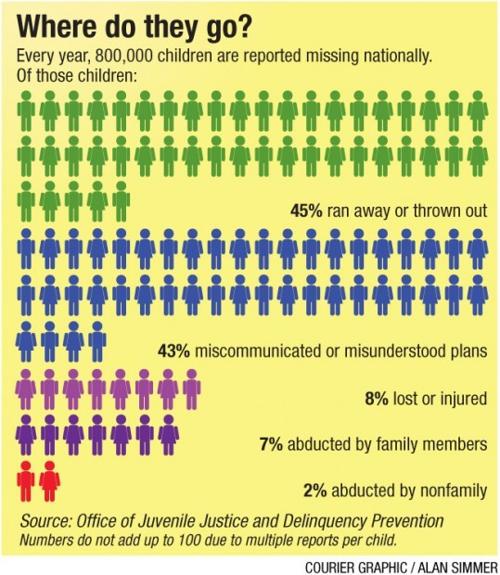 EVANSDALE, Iowa --- More than 800,000 children younger than 18 go missing each year nationwide, according to the U.S. Department of Justice.
That's nearly 2,200 every day. While the vast majority are either runaways or are unaccounted for because of miscommunication, time is of the essence when it comes to finding those missing for more alarming reasons.
Two young girls from Evansdale and Waterloo are now among the ranks of those daunting statistics.
An around-the-clock effort to find Lyric Cook-Morrissey, 10 of Waterloo and her 8-year-old cousin Elizabeth Collins of Evansdale has been under way since the girls disappeared Friday afternoon.
Representatives of two agencies specializing in finding missing or abducted people said Tuesday that everything is being done to find the youngsters. Law enforcement and volunteers have methodically searched, and continue to search, Evansdale and surrounding areas, he said.
No credible leads or clues have turned up so far to help.
Every day the kids aren't found, search experts say, the odds of finding them alive diminish.
"For any missing person, the longer it (the search) goes, the more gloomy it gets," said Pat Farrell, volunteer with the National Center for Missing and Exploited Children based in Alexandria, Va. "The chances of recovery diminishes, but doesn't disappear."
Since 1984, the nonprofit agency has assisted law enforcement with more than with more than 187,800 missing-child cases nationwide. More than 175,000 children were recovered --- alive or dead --- the center's website, www.missingkids.com., said.
Of those recovered, more 50 percent are found alive, said Bob Lowery, executive director of the center's missing children division. He said that's much better than year's ago because public awareness has improved. The Internet and smart phones have played a significant role, along with not waiting 24 hours any more to see if kids return before taking action.
Though no one can guarantee the safe return of the kids, Lowery said the odds are better than ever before.
"There was that immediate response in Evansdale (to find) Lyric and Elizabeth. We all know that time is the enemy," Lowery said.
No data was available detailing the odds of finding children alive as time elapses.
Farrell, a retired chief of police in Rochester, Minn. has helped local authorities since Saturday providing search advice and offering technical assistance like mapping technology and ground-penetrating radar. The center also provided posters put Elizabeth's and Lyric's pictures online along with pertinent information.
With the agency since 1998, Farrell remains optimistic Lyric and Elizabeth will be found alive and well.
"Some young people turn up years down the road. The vast majority are recovered," he said.
The center currently lists 12 missing children in Iowa, including Elizabeth and Lyric. One case dates back to 1975.
More than 5,300 people went missing in Iowa last year, according to a report by the Iowa Department of Public Safety. Of those, 4,593 were listed as juveniles.
About 99 percent of the missing children cases statewide last year were juvenile runaways. Other categories include endangered, 0.47 percent; familial kidnap, 0.13 percent; disabled, 0.11 percent; involuntary, 0.04 percent and lost or wandered, 0.04 percent.
There were 234 missing person reports filed in Black Hawk County last year, the report said.
Star 1 Search and Rescue, a nonprofit based in Story County, helps find missing or abducted children. Jim Peters, a volunteer representing the group in Evansdale, said the group typically has a "better than 50 percent" rate of finding missing people, alive or otherwise.
The agency provided search dogs and teams and help local law enforcement organize search parties.
Speculating about the chances for recovery here is unwise, Peters said, but he's optimistic. A missing 8-year-old in Virginia was recently found by searchers after five nights.
A successful "recovery does happen. ... Conditions are hot but no cold enough at night to injure someone," Peters said.
Lyric and Elizabeth last seen riding bikes near downtown Evansdale by their grandmother at 12:15 p.m. Friday. Their bikes and a purse belonging to Elizabeth, which contained a cell phone, were recovered on the southeast corner of Meyers Lake about four hours later.
Capt. Rick Abben of the Black Hawk Sheriff's Office said the authorities have received several calls from people who thought they saw the girls riding bike Friday afternoon.
Anyone that may have seen the two girls at anytime last Friday is asked to call the Tip Line at 232-6682.