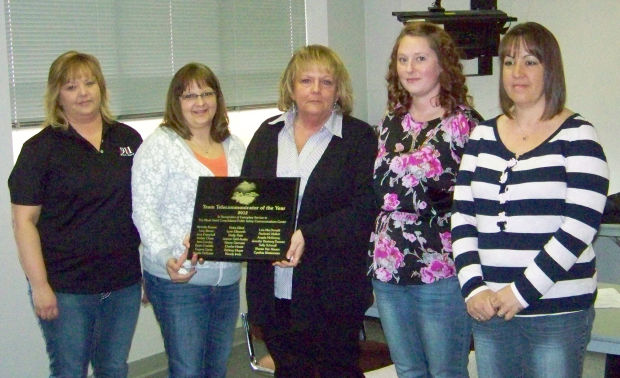 WATERLOO, IOwa --- In the weeks following the July disappearance of cousins Lyric Cook-Morrissey and Elizabeth Collins, thousands of leads came in to authorities.
The job of receiving those tips and routing them to investigators fell on a team of 911 dispatchers who worked extra hours at the Evansdale Police Department to staff a hotline.
The special phone line brought in "tips ranging from psychics claiming to have had a vision to sightings of the girls," said Judy Flores, administrative supervisor at the Black Hawk County Consolidated Communications Center. "This incident was talked about nationally, which resulted in calls stretching from outside of the state of Iowa."
On Wednesday, 23 emergency operators from the communications center were bestowed with the with the honor of Dispatcher of the Year for 2012. The annual award normally goes to a single dispatcher, but officials said it would be difficult to single out any one employee and opened the field to include everyone who assisted with the hotline.
"It was amazing to see staff from our center step up and help when they didn't need to do so," Flores said. She said the line was also staffed by dispatchers from other counties who wanted to do their part for the cause.
Authorities set up the toll-free number shortly after the two cousins disappeared on July 13. Organizers set up the center at the answering point at the Evansdale Police Department, independent of the dispatch center in Waterloo.
At its busiest, the hotline received 15 to 20 tips an hour and staffed three people around the clock, said Kent Smock, Evansdale's police and fire chief. He said that pace continued for about 10 days.
"It was very stressful on the staff as many tips that came in were found to be invalid," Flores said.
A linked computer system allowed operators at the dispatch center to read a synopsis of information that came into the tip line.
After the first months, as tips began to wane, officials gradually passed the calls over to the dispatch center to be answered with the regular flow of calls, Flores said.
Those receiving the honor are Michelle Boesen, Lucy Breuer, Jena Campbell, Amber Chase, Ann Condon, Karen Costello, Danielle Crozier, Eugene Davis, Angela DeKoster, Vickie Elliott, Lynn Ellsworth, Shelly Frein, Jeanne Gehl-Austin, Stacey Germain, Charles Hosier, Brittney Hoyer, Wendy Irwin, Lisa MacDonald, Frederick Mallett, Angela McKinney, Alice Peyton, Hannah Pillack, Jennifer Riesberg-Timmer, Sally Schmoll, Sheree Van Hauen and Cynthia Westemeier.
Be the first to know
Get local news delivered to your inbox!