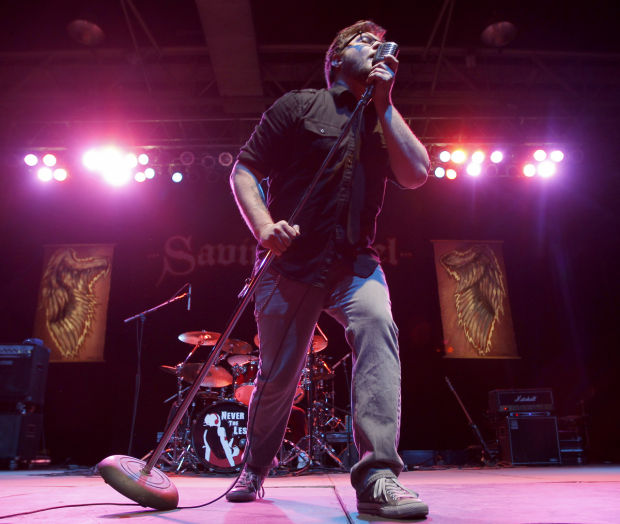 EVANSDALE, Iowa --- Efforts to raise funds for Angels Memorial on the island at Meyers Lake received a huge shot in the arm from Saturday's Concert for the Angels.
A preliminary count of proceeds from the event, which was headlined by national touring band Saving Abel, totaled more than $31,000, said event organizer Sarah Werkmeister.
That puts the total of funds collected so far at about $48,000, said volunteer Dona Frickson.
You have free articles remaining.
"It was beyond amazing," said Werkmeister, who said attendance may have reached as many as 3,000 people. "Based on the things people are saying about it, every minute that I worked on this was worth it in the end. People were impacted beyond words. Speaking from my heart, I know I succeeded in this event. The goal was to see a community affected positively, and I feel that goal was accomplished."
Although the concert is over, fundraising continues in a number of ways.
An online auction Werkmeister put together in conjunction with the concert featuring music memorabilia is ongoing and can be found at www.angelsconcert.com.
Additionally, T-shirts created for the concert by Onyx Cross Clothing are still available. Examples of the shirts are available for viewing on the company's Facebook page and orders will be taken as long as there is a demand. The shirts, black with white angel wings and a bible verse, are $20 a piece. All proceeds go to the memorial. While the company's website is under construction, requests for the shirts should be sent to www.onyxcrossclothing@gmail.com.
Upcoming events include a fundraiser June 15 at Cobblestone Creek in Evansdale and the Memorial Ride & Drive for the Girls on July 13, the anniversary of the day cousins Lyric Cook-Morrissey and Elizabeth Collins went missing. Proceeds from the Ride & Drive will be split between the memorial and Cedar Valley Crimestoppers.