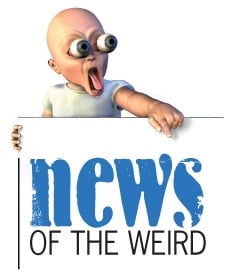 Danielle Parker was hospitalized and awaiting DUI charges after a crash near Gaston, N.C., in March, even though she had been in the passenger seat of the car. She had handled the wheel momentarily because Brittany Reinhardt, 19, in the driver's seat, was busy texting. Reinhardt, apparently sober, was charged with "aiding and abetting" a DUI.
The Washington Post reported in April that the federal government is due to spend $890,000 this year to safeguard ... nothing. The amount is the total fees for maintaining more than 13,000 short-term bank accounts the government owns but which have no money in them and never again will. Closing the accounts is easier said than done, according to the watchdog Citizens Against Government Waste. The accounts each housed separate government grants, and Congress has required that, before the accounts are closed, the grants must be formally audited --- something bureaucrats are rarely motivated to do, at least within the 180 days set by law (though there is no penalty for missing the deadline).
It's good to be the county administrator of Alameda County, Calif. The San Francisco Chronicle revealed in March that somehow, Susan Muranishi negotiated a contract that pays her $301,000 a year, plus "equity pay" of $24,000 a year so that she makes at least 10 percent more than the next highest paid official, plus "longevity" pay of $54,000 a year, plus a car allowance --- and that she will be paid that total amount per year as her pension for life, in addition to a private pension of $46,000 a year that the county purchased for her.
In rare (these days) bipartisan action, congressional military "experts" of both parties are about to force the Army to continue building Abrams tanks, when the Army said it doesn't want them and can't use them. The tank manufacturers, of course, have convinced Congress that it needs the contracts, no matter what the Army says, according to an April Associated Press analysis.
Chicago police have arrested Ms. Shermain Miles, 51, at least 396 times since 1978, under 83 different aliases, for crimes ranging from theft (92 times) to prostitution and robbery. According to the Chicago Sun-Times, she is a virtuoso at playing "the system" to delay her proceedings and avoid jail time.
Alvin Cote, 59, passed away in February of poor health in Saskatoon, Saskatchewan, following a "career" of 843 public-intoxication arrests.
Mr. Datta Phuge perhaps overly personifies India's national obsession with the beauty of gold. For special occasions, he outfits his "knuckles, neck and wrists" with golden "signet rings, chunky bracelets and a medallion," wrote BBC News in April after Phuge had also purchased a crinkly gold tailored shirt made for him for about $250,000. The 7-pound shirt, from Rankar Jewellers in the city of Pune, has a velvet lining to keep it from irritating his skin, and he must, of course, always travel with a bodyguard.
Stan Worby, 39, made headlines internationally in February when, dressed as Batman, he hauled fugitive Daniel Frayne, 27, into a Bradford, England, police station. It turns out he was just helping his friend Daniel turn himself in (on an outstanding arrest warrant). In a separate incident in April, the two "friends" were arrested together and charged with burglarizing a garage in Bradford.