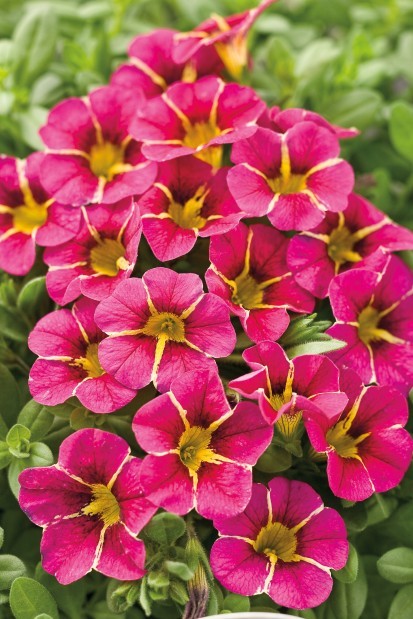 What looks a mini-petunia and is drenched in flowers from spring until frost?
If you answered "calibrachoa," give yourself a gold star.
You've heard them called "Million Bells" or "Superbells." A small, tender annual, calibrachoa is a powerhouse, churning out frothy mounds of cheerful flowers and cascading out of containers and hanging baskets. Related to petunias, the sun-loving calibrachoa is listed in a different genus.
One of the prettiest Superbells I've seen is growing in several containers in my yard.
"Cherry Star" is a striking calibrachoa. The color is honest-to-goodness cherry and a gold star surrounds the eye. In the spirit of full disclosure, Proven Winners sent me this 2012 introduction to trial, and I haven't been disappointed.
The variety was introduced to growers at spring trials in California this March, said Danielle Ernest from Proven Winners. "Cherry Star" will be available at garden centers nationwide in spring 2012.
"This beauty had everyone at spring trials star-struck for its bright, golden star radiating from the eye and glowing from the contrast to the cherry pink petals. There were several varieties tested with this same stunning quality, but this diva was the only one to hold that star pattern in the heat and humidity," Ernest wrote in a recent newsletter.
In my pots, "Cherry Star" has filled out rapidly and is already spilling over the rims and spreading around the base of annual ornamental grasses. For such simple plantings, the look is very appealing.
I'd be tempted to use "Cherry Star" or another calibrachoa cultivar like "Trailing Plum" or "Dreamsicle" to border flower beds, massing and repeating the same color along the edge of a curving border for impact. You'll find numerous cultivars already on the market from Proven Winners and other breeders.
Calibrachoa plants are only about 6 to 10 inches tall, but their trailing branches can become quite long. Plants are vigorous (obviously), disease- and pest-free and heat resistant --- our recent spate of high 80s has left them unscathed.
Plant in full sun and don't overwater. Calibrachoa don't like wet feet. If you notice a plant is wilting even when the soil is damp, chances are, it's root rot. Water when soil on top feels dry to the touch. If you tuck them into garden beds instead of pots, make sure soil is well drained or plant in raised beds.
You won't have to deadhead blossoms because plants are bred to be self-cleaning.
More suggestions from experts at Proven Winners:
Fertilize regularly. Plants are sensitive to both high and low pH. If plants look tired or foliage is yellowing, there are two possibilities. If you haven't been fertilizing regularly, they could need a balanced, 20-10-20 water-soluble fertilizer. If the foliage is yellow and you have been fertilizing, the soil pH range may be too high or low and iron can no longer be taken up by the plant. You can try to lower (or raise) the pH or apply chelated iron, available in a wide pH range, or find a foliar spray with iron. Plants should respond by greening up.