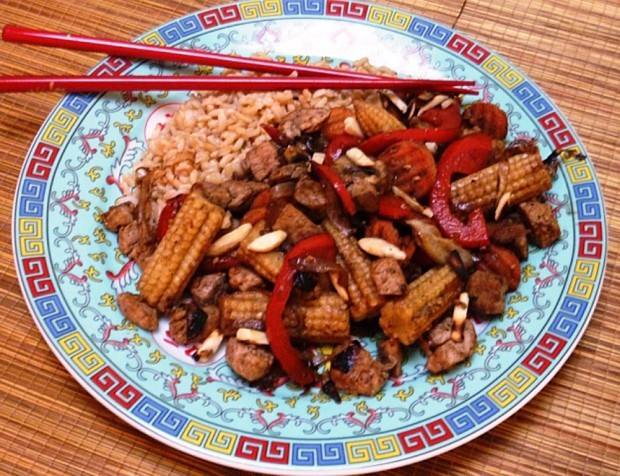 The exotic flavors of Chinese five-spice powder delicately glaze the ingredients for this stir-fry. The spice is a pungent mixture of star anise, cinnamon, cloves, fennel seed and Szechwan peppercorns. It creates an intriguing flavor in many Chinese dishes. You can use it to add a new flavor to other rice or vegetable dishes.
Most Asian dishes have several ingredients, but once they're assembled they take only a few minutes to cook. This stir fry takes only 6 to 7 minutes once in the wok. You can even prepare the ingredients the night before for a quick dinner the next day. Serve it with rice.
Chinese five-spice powder can be found in the spice section or sometimes in the ethnic section of the market.
Also, any type of onion can be used and four crushed garlic cloves can be used instead of minced garlic.
¼ cup plus 1 tablespoon fat-free, low-sodium chicken broth, divided use
1 ½ tablespoons rice wine vinegar
½ teaspoon Chinese five-spice powder
2 teaspoons minced garlic
1 tablespoon low-salt soy sauce
1 tablespoon slivered almonds
½ cup sliced yellow onion
½ cup sliced red bell pepper
½ pound pork tenderloin, ½-inch cubes
½ cup sliced baby bello mushrooms
1 cup drained, canned, whole baby corn, cut in half
Salt and freshly ground black pepper
Mix ¼ cup chicken broth, vinegar, five-spice powder, garlic and soy sauce together. Set aside.
Heat a wok or large nonstick skillet over high heat. Add almonds and toss until golden, about 20 seconds. Set aside on a plate.
Add oil to wok and heat over high heat until smoking. Add onion, red bell pepper and carrots and stir-fry 3 minutes. Add pork, mushrooms and corn and stir-fry 2 minutes more. Add salt and pepper to taste. Transfer to a bowl.
Add broth mixture to the wok and boil 1 minute. Stir cornstarch into the remaining 1 tablespoon broth and add to the wok. Boil to thicken sauce, about 30 seconds.
Remove wok from heat. Add stir-fried ingredients and toss to coat with sauce. Serve with rice and sprinkle almonds on top. Makes 2 servings.