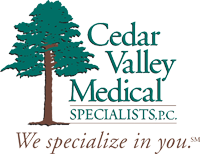 XL Sports Acceleration Program began about 10 years ago on the University of Northern Iowa campus. Since, the membership has grown by leaps an…
Sleeping next to a snorer can be irritating. If you don't fall asleep first, you could be lying there for an extended time before being able t…
Dr. Claro Palma is the only rheumatologist in the Cedar Falls/Waterloo area. His office in Cedar Valley Medical Specialists' Rheumatology Depa…
Radiology is the medical specialty that includes the diagnosis and treatment of certain conditions through the interpretation of images taken …
Many medical specialties evolve over time. Diseases evolve, medications evolve, technologies change. The field of pulmonology is no different.
The goal of the staff at Cedar Valley Physical Therapy (CVPT) is to restore or facilitate function and movement following an injury or other m…
Next to the common cold, back pain is the second most common reason for people to visit a primary care physician. Physicians specializing in p…
Most doctors enter the medical field because they want to help others. For Dr. Joseph Hart, the reason is more personal. When Joe Hart, his un…
after 35 years as an orthopedic surgeon, Dr. Jay Ginther made a decision to try to prevent the conditions that often were sending his patients…
OrthoExpress is a division of Cedar Valley Medical Specialists, and is the area's only walk-in urgent care clinic specializing exclusively in …
Orthopedics is the branch of medicine that treats the bones, joints, muscles, tendons and associated tissues. The eight orthopedic surgeons at…
Cedar Valley Eye Care (CVEC) offers one-stop shopping for your family's eye care, ranging from routine eye care from three optometrists, to sp…
Dr. Ivo Bekavac is a happy man. He has a great family, he loves people, he loves the Cedar Valley, and he loves his job. He's not going anywhe…
You don't have to be a doctor to know that diabetes and high blood pressure are on the rise in the United States. Those two conditions can lea…
In today's world of constantly changing technology and specialization, the need for general surgeons is still very important.
Cedar Valley Gastroenterology offers area patients an interdisciplinary approach in the diagnosis and treatment of a wide range of digestive d…
Hearing loss — missing parts of a conversation or turning up the sound on the television — can be more than just an unfortunate part of aging.
When it comes to hearing better, breathing better, looking better, and having better skin, Dr. David J. Congdon has it covered under one roof.…
Since 1982, UnityPoint Health-Allen Hospital, along with Cedar Valley Medical Specialists, has been providing the Cedar Valley and surrounding…
Dr. Douglas Duven made the transition from full-time general surgeon to a practice devoted to breast care in 2003. He felt there was a need fo…
Anesthesiology has come a long way from the days when a person took a swig of whiskey prior to a procedure to help dull the pain. Today's anes…
For those suffering from some form of allergy or immune disorder, Cedar Valley Medical Specialists (CVMS)' Allergy and Immunology Department c…
Advanced Diagnostic Imaging (ADI) has been serving the Cedar Valley since 2005 and is the area's leader in imaging services. ADI has convenien…
Putting the patient first is what Cedar Valley Medical Specialists (CVMS) is all about.
Q Is Cedar Valley Medical Specialists a part of area hospitals?
Cedar Valley Medical Specialists (CVMS) was established in 1995. Our goal was to create an independent group of medical specialists and resour…