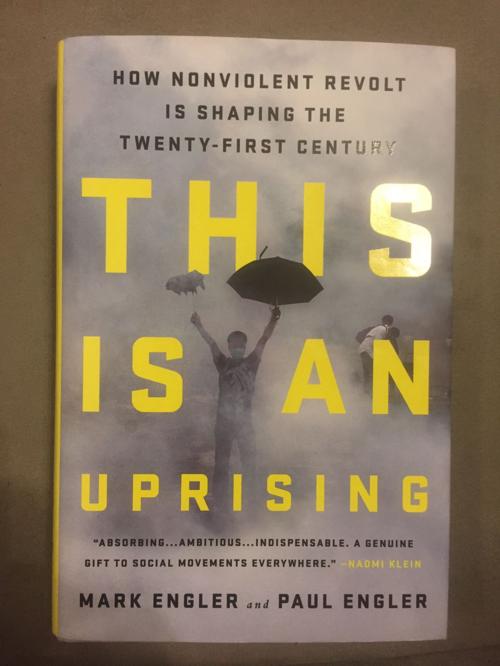 If the presidential election is the year's top news story, a close second may be the various protests that captured our attention.
Why is protest so often considered a way to get attention for a cause? Because it works, say authors Mark Engler and Paul Engler. Earlier this year, they released "This is an Uprising: How Nonviolent Revolt is Shaping the 21st Century. "
The book explores the resources and methodologies that make nonviolent protest an effective tool. It is a well-researched and engrossing text that breaks down exactly why public mobilization, demonstrations and civil disobedience can take down corrupt government leaders and bring an end to discrimination.
"Many of the critical advances of the last century and a half — the end of slavery, women's suffrage, the restriction of child labor and implementation of workplace safety standards and the outlawing of many forms of discrimination — owe less to the legislative end game that formalized acceptance of these causes and much more to the social movements that put them on the map," write the authors. "Likewise, on the international scene, an increasing number of unelected leaders have ceded power not as a result of traditional diplomacy or military maneuvering. Instead, they were ousted through the demands of unarmed mass mobilizations."
A check of the headlines shows multiple active causes demonstrators flock to. There's climate change, officer-involved shootings of unarmed individuals and displeasure over election results. Demonstrators continue to protest the Dakota Access oil pipeline. More than 10,000 British prison officers participated in a 24-protest earlier this week to push for an end to rising violence in jails. (The government squelched a strike.) In Brazil, demonstrators camped outside parliament this week to demand public workers receive the pay they were promised for their work during the Rio Olympics.
"As important as it has proven itself, the strategic application of nonviolent force is poorly understood," the Englers note in their book. "Nonviolence is usually regarded as a philosophy or moral code. Much less frequently is it studied as a method of political conflict, disruption and escalation. This is a missed opportunity. If we are perpetually surprised by unarmed uprising, if we decline to incorporate it into our view of how societies progress, then we pass up the chance to understand a critical phenomenon — and to harness its power."
The authors are highly regarded for their work related to social justice. Both graduated from high school in Des Moines and have ties to Waterloo.
Mark Engler, a Philadelphia-based journalist, also authored "How to Rule the World: The Coming Battle Over the Global Economy." He is a senior analyst with Foreign Policy in Focus think-tank, a member of the editorial board at Dissent magazine and a contributing editor for Yes! Magazine.
Paul Engler lives in Los Angeles. He is the founding director of the Center for the Working Poor. He also co-founded Momentum Training, which instructs activists in the principles of effective protest. He spent more than a decade working as an organizer in the immigrant rights, global justice and labor movements.
"This is an Uprising" is available from most major booksellers. For more information on the book, go to DemocracyUprising.org