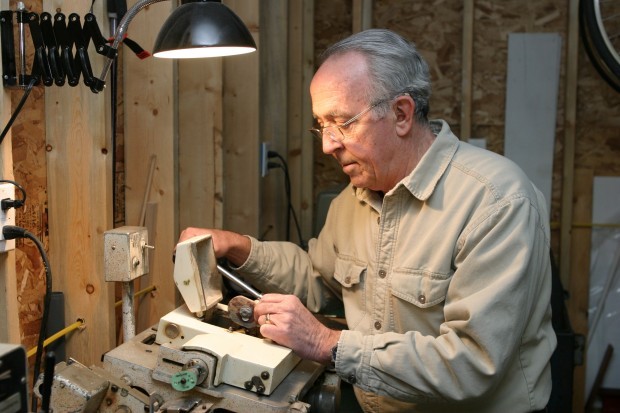 WATERLOO --- Richard Kline's garage is arranged like an assembly line.
Equipment he uses to grind and polish stones and make jewelry line the walls in order of the process. His materials and tools are neatly stored. There often is a work in progress at each station.
But the equipment doesn't resemble what can be found in most gem and mineral hobbyists' workshops.
"My approach and my tools are a bit different than most people in the biz," said the Waterloo resident.
Kline uses optical equipment once used to make eye glass lenses. Quartz crystal, agate and other gemstones and minerals are shaped and polished on the same equipment used to create corrective lenses.
He will demonstrate his skills on the equipment and display his jewelry at next Sunday's Black Hawk Gem and Mineral Society show. The event takes place from noon to 5 p.m. at the Waterloo Center for the Arts.
You have free articles remaining.
Kline, who is a former military instructor in U.S. Army optical school, grew up in Waterloo. He moved back to the community after living in New Hampshire to spend time his family and grandchildren.
"When I was 13, I worked for my father in a wholesale optical laboratory. At that time, all corrective lenses were made from glass and made by hand. I'd pick up rocks and sneak them into work and polish them. I liked the way they looked," he recalled.
The vision industry changed as the process of making corrective lenses became more automated, and plastic replaced glass as the material of choice for eye wear. Kline rescued equipment headed for the ash heap of history, carried it home and set up shop in his garage.
Now lens grinders do their work on jade, beryl and jasper, for example. "It appeals to me to let the stone talk and maximize what is pretty about each stone. One thing I like about the equipment is that my grandsons, 10 and 11, can't hurt themselves."
Although he's mined for rocks and has an extensive collection, including quartz crystal found on a fall trip with his wife, Kline also purchases his fair share of stones. The hunt for rocks, he says, isn't nearly as thrilling as grinding and polishing and making jewelry.
He learned to make jewelry in art classes taught by Marion Kitzmann at Waterloo's West High School and completed a one-year apprenticeship with a jewelry manufacturer.
"I like designing rather than having someone else do it. I enjoy conceptualizing and problem solving and deciding how best to showcase a stone," he explained.