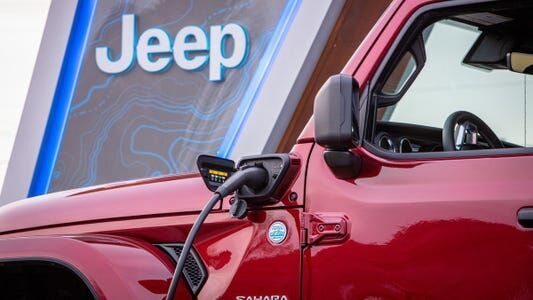 Plug-in Jeeps, all-electric pickups and the fastest Dodge muscle car ever: Stellantis is betting big on electrification. The world's fourth-largest automaker announced it will invest 30 billion euros ($35.5 billion) over the next five years in a chase to lead the industry, or at least keep up.
Stellantis was formed earlier this year by the merger of Fiat Chrysler Automobiles and France's PSA Group. It has been a laggard in the race to bring zero-emission vehicles to market, but CEO Carlos Tavares declared, "We are on a rolling start and we are now accelerating," during a nearly three-hour virtual presentation on Thursday.
Goal by 2030: from 4% Electrified Vehicles to 40% in North America
Over the coming decade, the automaker will go through a massive transformation, converting assembly plants and parts factories and setting up five all-new battery plants. By 2030 it expects plug-in hybrids and pure battery-electric vehicles to account for more 70% of its sales in Europe and more than 40% in North America. Today, it's just 4% in North America.
Just by mid-decade, said Tavares, the goal will be to have 55 plug-based vehicles in global showrooms: 40 battery-electric vehicles, or BEVs, and another 15 plug-in hybrid-electric vehicles, or PHEVs.
Jeep Wrangler 4xe PHEV Is a Surprise Success
The PSA side of Stellantis is clearly further ahead when it comes to electrification. In the U.S., the old Fiat Chrysler trails the competition. It currently offers no all-electric models and just two plug-ins, the Chrysler Pacifica Hybrid minivan and the new Jeep Wrangler 4xe. The response to the 4xe has taken company officials by surprise, generating more than 20% of Wrangler sales since its April debut.  
The goal is to repeat that success, Jeep set to add 4xe versions of every product in its line-up by 2025, with a version of the next-generation Grand Cherokee coming for the 2022 model-year.
"We are committed to zero emissions," said Christian Meunier, the Jeep brand's CEO.
Dodge Muscle Car EV: 0-60 mph in 2 Seconds
There were a number of surprises within the Thursday presentation. That included the revelation that the Dodge brand will get what is promised to be its fastest and most powerful new model ever. And it will be all-electric.
"Our engineers are reaching practical limit of what we can squeeze from an internal combustion engine. We know that electric motors can give us more," explained Dodge brand boss Tim Kuniskis.
The unnamed muscle car will launch from 0-100 kph in around 2 seconds, he added. That would put it on a par with the new Tesla Model S Plaid which – under carefully controlled conditions – can hit 60 mph in 1.9 seconds.
Much of the Thursday press conference focused on plans for the old FCA side of Stellantis. The Ram brand will get its first all-electric pickup by 2024, CEO Mike Koval announced. And while that will put it well behind the timeline for competitors like Ford, GMC and Chevrolet, as well as Rivian and Tesla, Koval dismissed any concerns.
"We will push past what the competition has announced," he suggested. Among other things, the platform on which the Ram will be based will be capable of delivering up to 200 kilowatt-hours of energy – nearly twice as much as anything currently on the market.  That could yield as much as 500 miles per charge.
All told, Stellantis is working on four distinct EV "architectures." The smallest will be used for products like the next-generation Fiat 500e. Fiat will effectively go all electric in the years ahead. Most of its plans target Europe, but some battery models will come to the U.S. And Fiat also will enter the Chinese market with pure BEVs.
There will be two other platforms for passenger cars and SUVs, with a large, body-on-frame architecture dedicated for pickups and commercial vehicles. Among other things, it will provide the underpinnings for an all-electric version of the ProMaster van, as well as a hydrogen fuel-cell van coming to market late this year.
Cobalt-Free Lithium-Ion Battery Planned
Stellantis officials announced that they are developing two new lithium-ion battery chemistries, including one without costly cobalt. Battery packs will be able to hold anywhere from 37 to more than 200 kilowatt-hours of energy. Range will run up to 300 miles with the STL Small architecture, and up to 500 miles per charge with the STLA Large and STLA Frame platforms. Charging times are also expected to drop to as little as 10 minutes for an extra 200 miles range.
Stellantis also is developing new methods to reuse and recycle old electric vehicle batteries.
A key challenge will be bringing down the cost of battery technology. Right now, it takes hefty government incentives of up to $7,500 to make EVs competitive with gas models, acknowledged Tavares. But Stellantis is targeting a 40% reduction in pack costs by 2024, and another 20% savings by 2030. A $10,000 battery pack would drop to $6,000 then $4,000, or the same money that bought a 250-mile battery would buy 400-plus then 500-plus miles. That should help put EVs on parity with internal combustion vehicles, even without incentives, said Tavares, while helping Stellantis achieve a target of double-digit profit margins.
New Taglines for Stellantis' 14 Brands
While there was no news about some of the 14 Stellantis brands on Thursday, company officials emphasized more will follow. That's good news for Chrysler fans, in particular. There's been widespread speculation the brand could vanish in the years ahead. But Ralph Gilles, the automaker's North American styling chief, was pictured working on a battery-powered Chrysler concept that suggests the brand could have an electrified future.  
Stellantis did offer these approaches to electrification, or taglines, for its 14 brands. We offer them without comment:  
Abarth – "Heating Up People, But Not the Planet"
Alfa Romeo – "From 2024, Alfa Becomes Alfa e-Romeo"
Chrysler – "Clean Technology for a New Generation of Families"
Citroën – "Citroën Electric: Well-Being for All!"
Dodge – "Tear Up the Streets… Not the Planet"
DS Automobiles – "The Art of Travel, Magnified"
Fiat – "It's Only Green When It's Green for All"
Jeep – "Zero Emission Freedom"
Lancia – "The Most Elegant Way to Protect the Planet"
Maserati – "The Best in Performance Luxury, Electrified"
Opel/Vauxhall – "Green is the New Cool"
Peugeot – "Turning Sustainable Mobility into Quality Time"
Ram – "Built to Serve a Sustainable Planet"
Commercial Vehicles – "The Global Leader in e-Commercial Vehicles