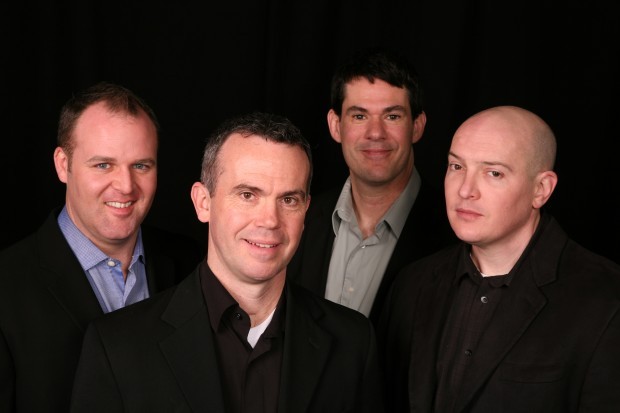 Mike Noonan is excited about returning to his old stomping grounds.
In the mid 1990s, the Maryland native and his group, Unified Jazz Ensemble, transformed Decorah and the surrounding area into a hotbed of jazz education and performances as participants in the National Endowment for the Arts' Chamber Music Rural Residencies Initiative. "I'm looking forward to seeing our friends who've remained fans over all these years. It's been about 13 years since I've been back and the band will be 20 years old this August. I grew up on the East Coast and living and working in the Midwest was different for me. I really enjoyed being in Iowa. It seemed the right time to go back and thank all the people who helped us along the way," said Noonan.
UJE will have a busy slate of performances on their return trip to Iowa, beginning with adjudicating the Iowa Jazz Band State Championships in Des Moines on Tuesday. The acoustic jazz quartet will perform original compositions and jazz standards at 7 p.m. April 18 at the Hub in Cedar Falls, as well as a full schedule of performances in Decorah.
It was the only jazz group to participate in the NEA's pilot program that offered rural communities in eastern Iowa 10-month-long residencies with UJE, as well as two young classical ensembles, including the Ying Quartet. The now-defunct Cedar Arts Forum coordinated the residency program, overseen by executive director Renata Sack.
She's thrilled that UJE is returning to Iowa for a mini tour and visit to Decorah, describing it as a "wonderful sign of the good qualities in human nature, loyalty, friendship, interest, commitment and passion."
Sack also believes the lasting impact of Cedar Arts Forum's 25-year history in Iowa "can still be strongly witnessed and the Unified Jazz Ensemble is a great example of how deeply CF programs influenced young people. I've had steady communication with UJE all these years and it's been a life-enriching friendship," she said
UJE sharpened their chops with frequent performances and master's classes, and their residency was so successful that it was expanded for another year. Originally a quintet founded in 1992, the current quartet has performed throughout the United States and abroad and recorded nine albums.
"Being in Iowa was a great formative time for the group, practicing, rehearsing, composing and performer. It was an incubator, a place to figure out how a band works, the practical ethics of how people get along and how the band could continue," Noonan recalled.
The group worked with college, high school and elementary school students as well as presenting public events through the residency program. "I think we changed some attitudes about jazz and made them more aware of the music," he said.
Noonan performs on vibraphone, marimba, piano and trombone. Other UJE members are John Pineda, bassist; Dominic Smith, drummer; and Tim Stanley, trumpet. Stanley is also a member of the Grammy award-winning Latin jazz ensemble, Afro Bop Alliance.