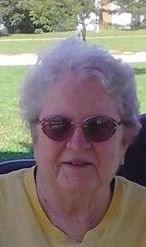 WATERLOO — Wilma A. Blosch, 75, of Waterloo, formerly of Purcel, Okla., died Friday, Sept. 6, at MercyOne Waterloo Medical Center.
She was born April 4, 1944, in Waterloo, daughter of William and Alice West Bunce. She married Harry D. Blosch on Sept. 14, 1968, in Evansdale; he died Dec. 9, 2007.
You have free articles remaining.
Survived by: two sons, Harry J. (Kameo) Blosch of Perry and Scott (Jan) Blosch of Tuttle, Okla.; grandchildren; great-grandchildren; and a sister, Leona Herman of Evansdale.
Preceded in death by: her parents; her husband; two sisters, Viola "Vi" Zingg and Iola Greathouse; and a brother, Arthur "Bud" Shannon.
Graveside services: were at 10 a.m. today, Sept. 10 at Garden of Memories Cemetery. Garden View Chapel is in charge of arrangements.
Memorials: may be directed to the family.