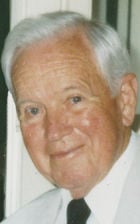 CEDAR FALLS -- Willis L. "Bill" Tyler, 93, formerly of Cedar Falls, died Sunday, Oct. 12, in Hot Springs, Ark.
He was born April 22, 1921, in Alta Vista, son of William and Bertha Lukritz Tyler. He married Wilma Bergmann on May 26, 1946.
Bill attended school in Alta Vista and then to barber college in Cedar Rapids. He barbered with his father in Alta Vista for a short time before entering the war effort. In 1981, after barbering in Cedar Falls where he owned and operated Bill's and then the Parkade barbershop, he and his wife retired to Hot Springs Village, Ark., and he continued to cut hair part time in his home shop.
He was a military veteran, fighting in the battle of Okinawa and then served in Korea for a short time
Survived by: his wife; two sons, Steve (Cynthia) of Waverly and Tom (Joan) of Holly Springs, Miss.; two grandchildren, Lori Lund of Phoenix and Ryan Tyler (Crystal) of Boise, Idaho; six great-grandchildren and a great- great-grandchild; a brother, James (Carol) of Charles City; and a sister-in-law, Rosalie Thompson of Hot Springs Village.
Preceded in death by: his parents; a sister, Lyla Mae Smith; and two brothers, Harry and Miles.
Memorial services: 1 p.m. Nov. 1 at Christ Lutheran Church, Hot Springs Village.
Memorials: may be directed to the Hospice of Central Arkansas or Christ Lutheran Church.
Bill enjoyed playing golf and was an avid fisherman. If he wasn't fishing on Lake Cortez, he was improving the fishery by adding nesting areas for bass and other fish. He is in the Village record books for catching record large-mouth bass. If there were fish to catch, Bill would find them.