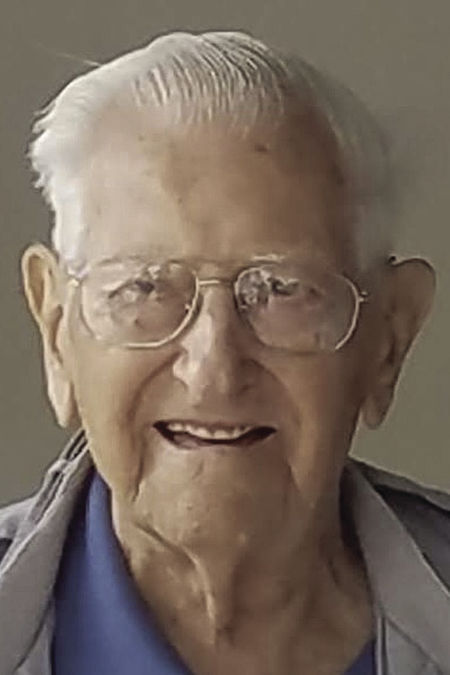 Virgil Merle Lindaman, age 96, of Parkersburg, Iowa, was born the son of Arnold and Minnie (Abbas) Lindaman on May 2, 1924, at their home in Parkersburg. Virgil attended rural country schools. Virgil served in the US Army during WWII from Feb. '46 until discharged Aug. '47. After Virgil returned from the service, he worked as a machinist at Clay Equip. in Cedar Falls.
On May 23, 1953, Virgil married Lylas Althea Dring in Webster City. They made their home in Parkersburg and owned Virgil's Fix-It Shop. In 1963, the family moved to Marshalltown, where Virgil worked for Montgomery Wards and at Fisher Controls, until his retirement in 1987. Lylas passed away in 1999. Virgil returned to Parkersburg in 2000, and in 2008 he lost everything in E-F5 tornado.
Virgil was a member of the American Legion Post 285 and was Legion Member of the Year in '04 and '13. He was a member of the AMVETS Post 102. In 2015, Virgil was the Parkersburg Citizen of the Year. He loved tinkering and fishing. Some of his favorite times were spent attending auctions and socializing with the boys. Before his health declined, he loved visiting his family in AZ and CO.
Virgil died Friday, July 24, 2020, at Unity Point Hospice in Waterloo, of natural causes. Virgil is preceded in death by his wife of 46 years, Lylas, his parents, Arnold and Minnie Lindaman; and his brothers, Duane and Vernon.
Virgil is survived by two daughters, Debra (Jim) Phillips of Loveland, CO and Marilyn (Mike) Jones of Mesa, AZ; four grandchildren, Shelly (Todd) Hedgespeth, Molly (Chuck) Callaway, Lauri (Al) Holstad and Cody Jones; five great-grandchildren; one great great-grandson; and many nieces and nephews.
Visitation will be from 4 to 6:00 p.m. on Tuesday, July 28, 2020 at Redman-Schwartz Funeral Home.
Funeral Services will be held, Wednesday, July 29,2 20 at 10:30 a.m., with additional visitation one hour prior to the service at Bethel Lutheran Church with burial in the Oak Hill Cemetery, both in Parkersburg.
Memorials may be directed to the family.
Redman-Schwartz Funeral Home in Parkersburg is in charge of arrangements. Online condolences may be left at www.redman-schwartz.com.
To plant a tree in memory of Virgil Lindaman as a living tribute, please visit Tribute Store.
Obituaries Newsletter
Sign up to get the most recent local obituaries delivered to your inbox.