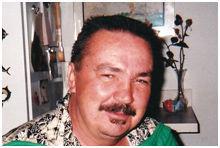 Roy was born in Waterloo on January 27, 1954, the son of Neal and Irene Baumgartner. Roy graduated from East Waterloo High School. Roy entered the construction industry and had various jobs around the country. He eventually settled in Folly Beach, South Carolina. This is where he met and married his wife Tana.
Roy became ill with severe pneumonia and was taken to Roper Hospital in Charleston, S.C. His condition worsened, and he passed away February 28. Roy is survived by his wife Tana, a brother Douglas (Kay) of Jackson, Alabama, sister Jane Wirtz (Mike Feldpouch) Elk Run Heights, sister Jean (Roger) Homan Waterloo and many nieces and nephews.
You have free articles remaining.
Roy was preceded in death by his parents. Roy was an avid fan of the South Carolina Gamecocks and rarely missed a game. He spent most of his free time golfing and played softball in Waterloo for many years.
Celebration of life took place March 3 on Folly Beach.