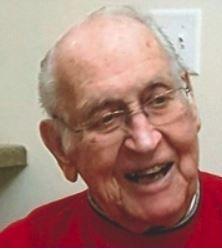 CEDAR FALLS — Rodney L. Jensen, 91, of Cedar Falls, died Friday, Jan. 11, at NewAldaya Lifescapes in Cedar Falls.
He was born Sept. 25, 1927, in Forest City, son of Paul and Evelyn (Tang) Jensen. He married Mavis Nielsen on March 5, 1950, in Mason City.
Rodney served in the U.S. Army from 1945 to the end of World War II. He graduated from Forest City High School, Waldorf College and the Wisconsin School of Banking. Before moving to the Cedar Falls area Rodney worked for First National Bank in Mason City and as a regional credit manager for Allied Mills Feed Co., also in Mason City. He worked for Wells Fargo Bank in Cedar Falls for 33 years as a cashier and vice president, retiring in 1987.
He was a member of Nazareth Lutheran Church and Sertoma Club, served on the Cedar Falls Planning and Zoning Commission and was a Cedar Falls Ambassador.
Survived by: his wife; a daughter, Tracie (Bert) Cantu of Cedar Falls; four grandchildren, Stacy and Josie Rhoades, both of Chicago, Charles "Chip" Thurston III of Cedar Rapids and Jocelyn (Jamey) Meyer of Cummings; four great-grandchildren, Charles Thurston IV, Harrison Thurston, Graham Meyer and Colby Meyer; and a sister, Sharon Juhl of Winter Springs, Fla.
Preceded in death by: his parents; and a daughter, Krisanna (Todd) Rhoades.
Services: 10:30 a.m. Friday, Jan. 18, at Nazareth Lutheran Church, with burial in Fairview Cemetery, both in Cedar Falls. Visitation will be for an hour before services at the church.
Memorials in lieu of flowers: may be directed to the church, Cedar Valley Hospice or Christian Crusaders.
Rodney loved to golf at Pheasant Ridge and Beaver Hills golf courses.