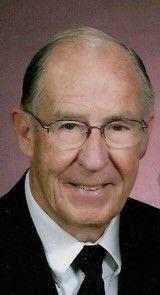 DIKE — Richard "Dick" F. Woodley, 82, of Dike, died Saturday, June 8, 2019, at Creekside Living in Grundy Center.
He was born Nov. 27, 1936, at home in Dougherty, son of Ray and Maggie Woodley. He married Nancy Hagge on Nov. 28, 1959, at St Thomas Aquinas Catholic Church in Ames.
He graduated from Hansell High School in 1955 and worked at Chapin Hardware in Hampton. Dick attended the University of Iowa then graduated with a teaching degree from Mankato State. He taught at Dike High School from 1961 through 1968. He also worked at Kaser Construction and sold mobile homes in Minnesota at Suburban Homes and Northland Homes. In 1969, he opened Countryside Homes Sales east of Dike and later a second location in Waterloo. He owned and operated Koehler Mobile Home Park in Conrad, worked for the engineering firm AE Com, formerly Brice Petrides, and was employed by FEMA, preparing housing for families after Hurricane Francis in Florida in 2004.
He was on the Dike School Board from 1974 to 1983, was a charter member of the Dike Lions Club and was a member of St Gabriel's Catholic Church in rural Reinbeck.
You have free articles remaining.
Survived by: his wife; four children, Cathy (Dan) Baker, Steve (Jennifer) Woodley, Susie (Ashley Beninga) Woodley and Mark (Rachael) Woodley; 15 grandchildren, Jessica, Sam (Tina), Mitchell (Katelyn), Jackson, Natalie, Hannah, Mallory, Anthony, Isaiah, Olivia, Lucy, Gwendlyn, Joshua, Evelyn and Cullen; three great-grandchildren, Asher, Amelia and Claire; and many nieces and nephews.
Preceded in death by: his parents; two sisters, Beverly Woodley and June Creese; and a brother, Darrell "Bud" Woodley.
Services: 10:30 a.m. Tuesday, June 11, 2019, at St. Gabriel Catholic Church, County Rd T55 (U Avenue), Reinbeck, with burial at a later date. Visitation will be from 4 to 7 p.m. Monday at Abels Funeral and Cremation Service–Dike Chapel, and continue for one hour prior to services at the church on Tuesday.
Memorials: may be directed to Cedar Valley Hospice.
Recanting fishing tales of fishing expeditions in Minnesota and Canada was a favorite pastime. He obtained his private pilot's license and instrument rating, and even survived an airplane crash in the hills of Arkansas! Winters were spent in Sun City, Fla., and summers in Pike Bay in Minnesota, but he was fond of living in Dike, Iowa, for over 55 years.
To plant a tree in memory of Richard Woodley as a living tribute, please visit Tribute Store.