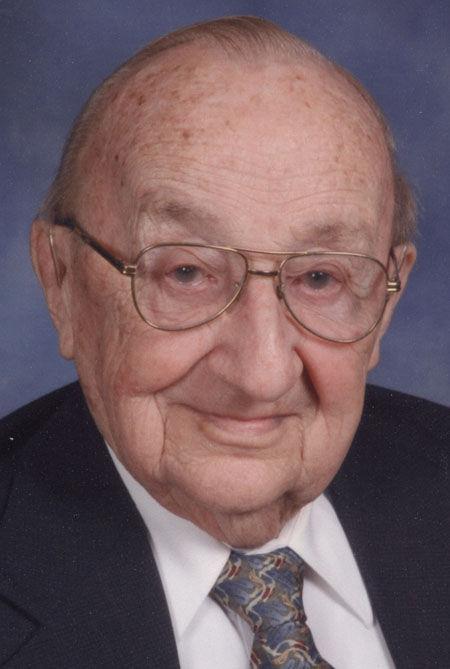 WATERLOO — Paul Holtman Boller, 100, of Waterloo, died Sunday, Sept. 9, at Rosewood Estate-Friendship Village of natural causes.
He was born May 3, 1918, in Waterloo, son of Raymond E. and Bess R. Holtman Boller. He married Betty Jean Tonnesen on April 24, 1949; she died Nov. 29, 1971. He married Norma Elaine Olson on Aug. 30, 1975, in Waterloo; she died March 29, 2001.
He graduated in 1937 from Waterloo West High School. Paul worked at the Waterloo Courier newspaper for 41 years retiring in June 1968 as manager over the photo engraving department. He served in the U.S. Army during World War II. He was a member of Zion Evangelical Lutheran Church in Waterloo. He volunteered many hours at St. John Lutheran Church in San Juan, Texas, where he was an associate member.
Survivors include: his sons, Dan (Dava) Boller of Waterloo and Dale (Tammy) Boller of Springfield, Mo.; a son-in-law, Darvin (Becky) Chase of Springfield; seven grandchildren, Jason (Lieta Siano) Boller, Jared (Stacey) Boller, Jon Boller, Elizabeth (Scott) Tyler, Marcia Boller, Jenna (Nate) Schares and Angela (Jake) Boxberger; four great-grandchildren, Coleson Wallace and Eisley and Weston and Arlo Boller; and a sister, Lois Osness of Waterloo.
Preceded in death by: his parents; his wives; a daughter, Linda Chase; and his twin brother, Lee Robert Boller.
Services: 10 a.m. Saturday, Sept. 22, at Locke Funeral Home, with burial in Garden of Memories Cemetery with military rites by Waterloo AMVETS Post 19, Evansdale AMVETS Post 31 and the Iowa Army National Guard Honor Guard. Visitation is 4 to 7 p.m. Friday, Sept. 21, at Locke Funeral Home.
Memorials in lieu of flowers: may be directed to Zion Evangelical Lutheran Church.
Paul enjoyed reading and music and his favorite, woodworking. He spent many winters in Alamo, Texas.