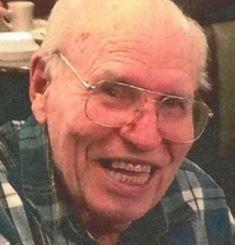 CEDAR FALLS -- Melvin W. Harms, 95, of Cedar Falls, died Wednesday, Jan. 9,  at the Thuesen Cottages Western Home Communities.
He was born Nov. 13, 1923, son of Edward and Wilhelmina (Hagenow) Harms. He married Ethelyn Dewey on Oct.  19, 1946; she died June 15, 1979. He married Ruby Foelske on Dec.  27, 1980; she died in September 2012.
Melvin was a veteran of the U.S. Army, serving in world War II. Before his retirement he worked for Rath Packing for 29 years as a meat cutter. 
Survived by: two sons, John (Darnel) Harms of Coolidge, Ariz., and Gary (Jo) Harms  of Forrest Lake, Minn.; a daughter, Jean Harms  of Coolidge;  three stepsons, Roger (Virginia) Foelske  of Indianola,  Daryl (Malinda) Foelske of Littleton, Colo.,  and Kevin (Vannessa) Foelske  of Ankeny; an honorary daughter, Ruth (Brian) Kelleher  of Indianola; 16 grandchildren, 24 great-grandchildren; and many nieces and nephews.
Preceded in death by: his parents; his two wives; three sisters, Rosina Harms, Pauline (Walter) Brase and Emelda (Raymond) Dewey; three brothers, Paul (Leola) Harms, Martin and Leo Harms; his father-in-law, and mother-in-law Leslie (Stella Cortright) Dewey; and his brothers-in-law, Charles (Audrey) Dewey, Rolland (Evelyn) Dewey, Bill (Norma) Dewey, Raymond (Emelda) Dewey, Jack (Ruth) Dewey and Dean Dewey.
Services: 2 p.m. Monday, Jan. 14, at Nazareth Lutheran Church, with burial at Garden of Memories Cemetery, Waterloo. Visitation is 2 to 4 p.m. today, Jan. 13, at  Dahl-Van Hove-Schoof Funeral, Cedar Falls, and for an hour before services at the church. Cedar Falls AMVETS Post 49 will conduct military honors.
Memorials: may be directed to Retrieving Freedom and UnityPoint Hospice.
Melvin's hobbies were fishing, feeding squirrels and birds  and carpentry. He loved traveling and camping. Melvin met monthly with retired Rath workers. He  enjoyed yearly reunions with members of the 1906 Aviation Engineers Battalion -- the unit Melvin and his twin brother, Martin, served with during World War II --  from 1963-2005.