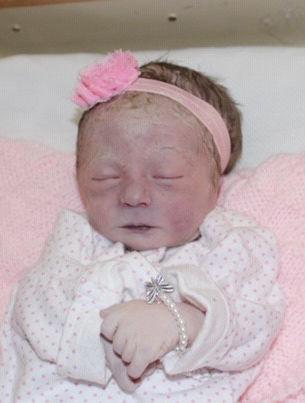 WAVERLY – Matilda Perry, daughter of Lisa Marie (Steffen) and Christian Lee Perry, died Wednesday, June 5, before she was born of Edward's Syndrome, a genetic disorder.
Survived by: her parents, Christian and Lisa Perry of Waverly; a four-year-old brother, Weston; a two-year-old sister, Elizabeth; maternal grandparents, Bob and Wendy Steffen of Dewar; paternal grandmothers, Susan Perry of Waverly and Floralyn Groff of Cedar Falls; paternal great-grandmother, Lois (Penny) Brown of Cedar Falls; maternal great-grandparents, Margaret Steffen of Dunkerton and Alice and James Wright of Dewar; great-great-grandmother, Christina Freund of Staceyville; and many aunts, uncles and cousins.
Preceded in death by: her paternal grandfather, Dave Perry; paternal great-grandfather, Edward Brown; and maternal great-grandfather, Cletus Steffen.
Services: 10:30 a.m. Monday, June 10, 2019, at St. Francis Catholic Church – Barclay, Dunkerton, with burial in St. Francis Cemetery. Visitation will be from 4 to 7 p.m. Sunday, June 9, at Kaiser-Corson Funeral Home, Readlyn.
Memorials: may be directed to the family.
On Sept., 2018, her parents were excited to learn the Perry family was expanding. On Jan. 23, 2019, they named her Matilda, which means warrior. On Feb. 4, 2019, Matilda was diagnosed with Edward's Syndrome. From early on, Matilda was very active, feisty and seemed to have a mind of her own. She seemed to be a warrior from the start.
To plant a tree in memory of Matilda Perry as a living tribute, please visit Tribute Store.