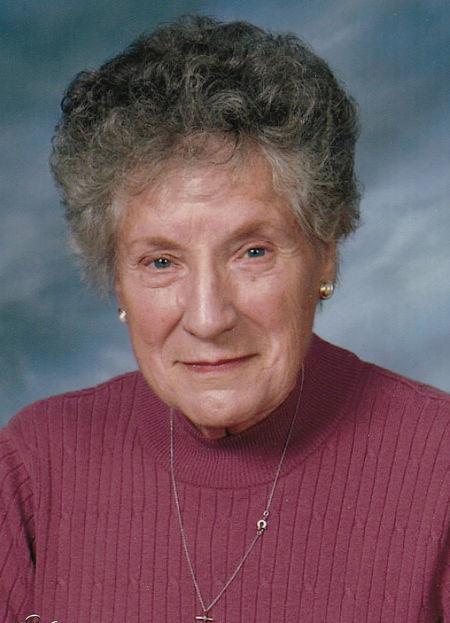 RAYMOND — Mary Elizabeth LaRue, 96, formerly of Raymond, died Tuesday, Oct. 2, at Denver Sunset Home.
She was born July 20, 1922, daughter of Joseph and Hazel Furino. She married George LaRue on Dec. 5, 1942, in St. Paul, Minn. He died in 1980.
Mary graduated from Cedar Falls High School in 1940. After graduation, she worked in a chocolate shop in Cedar Falls. She and her husband lived in California for a short time after World War II, then settled in Raymond. She worked as a secretary at the American Can Co., Fagen Electric and the Waterloo Savings Bank; she was awarded Secretary of the Year by the National Secretarial Association in 1960. They owned and operated LaRue's Muffler and Brake Shop for many years prior to their retirement. She moved to Parkview Assisted Living in Fairbank at age 91.
Survived by: a son, Craig (Dianne) LaRue of Denver; three grandchildren, Lisa (Mark) Sage of Cedar Falls, Scott (Susi) LaRue of Readlyn and Melanie (Shawn) Mastin of Waterloo; three great-grandchildren, Vince (Emily) LaRue, Julia LaRue and Isabel LaRue, all of Readlyn; two stepgrandchildren, Brad Mastin and Luke Mastin of Waterloo; a sister, Antoinette DeGear of Springfield Mo.; sisters-in-law, Byrdena Furino of Anamosa and Jean Furino of Santa Barbara, Calif.; and a close friend, Diane (Del) Drilling of Raymond.
Preceded in death by: her parents; her husband; two brothers, Henry and Joe; two sisters, Caroline and Camilla; and a nephew, Eddie McDonald.
Services: 10:30 a.m. Tuesday, Oct. 9, at St. Joseph Catholic Church, Raymond, with burial in the church cemetery. Visitation is 9 to 10:30 a.m. Tuesday at the church.
Memorials: may be directed to the family.
Mary enjoyed working in her yard, reading, embroidering, working crossword or jigsaw puzzles and was very active in her church. Her greatest joys in life were her family and her religion.