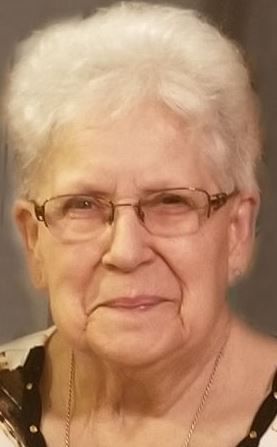 EVANSDALE — Mary Ellen Fitzgerald, 82, of Evansdale, died Friday, April 13, at New Hampton Nursing and Rehabilitation Center.
She was born April 2, 1936, in Waterloo, daughter of Walter Guhl and Edna (Hart) Lutijens. She graduated from Immaculate Conception School in Gilbertville. Mary Ellen married Merle Fitzgerald on Oct. 29, 1956, in Evansdale. He died on Feb. 9, 1998.
She was a homemaker and had also worked as a housekeeper at St. Francis Hospital in Waterloo. She had been a member of St. Nicholas Catholic Church in Evansdale.
Survivors: four daughters, Nancy (Greg) Heying of New Hampton, Kathy Fitzgerald of Waterloo, Lynette (Laurie Roethler) Fitzgerald of Elk Run Heights and Betty Jean (Donnie Adams) Secor of Arab, Ala.; four grandchildren, Lee (Mary Ann) Heying of Vinton, Renee (Dale) Throndson of Little Turkey, Samantha (Justin) Strasburg of Decatur, Ala., and Elizabeth (Mike Downing) Secor of Nashville, Tenn.; eight great-grandchildren; two sisters-in-law, Marge Fitzgerald of Evansdale and Delores Guhl of Waterloo; two brothers-in-law, Tony Weber of Gilbertville and Bob Fitzgerald of Cresco; and numerous nieces and nephews.
Preceded in death by: two brothers, Bill and Jim Guhl; and two sisters, La Dean Weber and Eunice Mason.
Memorial Services: 11 a.m. Wednesday, April 18, at Kearns Funeral Service Kimball Chapel, Waterloo. Visitation will be for an hour prior to services at the funeral chapel.
She enjoyed fishing, traveling, playing cards, and especially spending time with her family and friends.