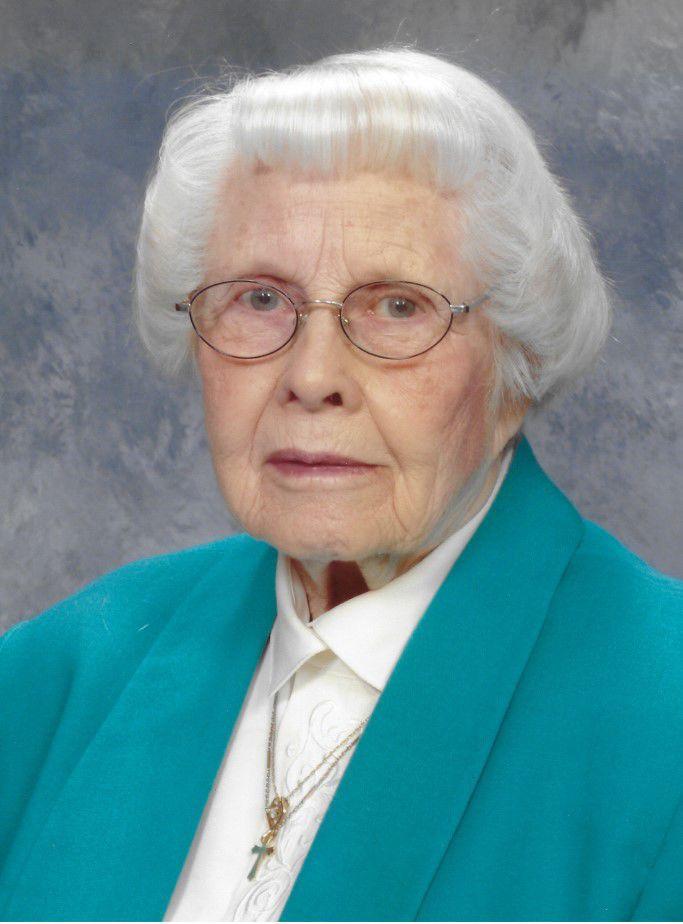 CLARKSVILLE — Mae "Jean" Harris, 99, of Clarksville, died Tuesday, Jan. 7, at the Clarksville Skilled Nursing and Rehabilitation Center of natural causes.
She was born June 3, 1920, in Parkersburg, the daughter of Andrew James and Pauline Ruth (Klodt) Wiley. On Feb. 20, 1943, she married Donald Lee Harris in Lancaster, Mo. He preceded her in death Feb. 21, 2003.
Jean graduated from the Parkersburg High School in 1937, attended Iowa State Teachers College, where she received her teaching certificate, and taught school in one-room schoolhouses in Butler and Grundy counties. She and her husband made their home and farmed near Clarksville. Jean was a mother, homemaker and helped on the farm.
She was a member of Community United Methodist Church in Clarksville, where she had taught Sunday school and Bible school for many years and was active in the ladies' group UMW. Jean led the Butler Bonnie Bells 4-H group for many years and was a member of the Rebekkahs, Eastern Star and the Clarksville Women's Club.
Survived by: a daughter, Donna (Robert) Kelm of Clarksville; two sons-in-law, Wayne (Donna) Stoppelmoor of Sylvia, Ill., and Wilson Groen of Denver, Colo.; 11 grandchildren; numerous great-grandchildren and great-great-grandchildren; one sister, Roberta "Bobbie" Kahler of Grinnell; and a nephew, Jerry (Mary) Kahler.
Preceded in death by: her husband; her parents; three brothers, Robert Wiley in infancy, Cpl. John Wiley, who died in World War II, and James "Dutch" Wiley; and two daughters, Shirley Ann Stoppelmoor and Mary Groen.
Services: 10:30 a.m. Monday, Jan. 13, at the Community United Methodist Church, with burial in Lynwood Cemetery, both in Clarksville. Visitation will be from 9:30 to 10:30 a.m. Monday at the church in Clarksville.
Memorials: maybe directed to the Community United Methodist Church. Redman-Schwartz Funeral Home in Clarksville is in charge of arrangements.
Jean was an avid seamstress. She enjoyed making her children's clothing and special things for her grandchildren and great-grandchildren. She loved to travel and had been to all 50 states. She enjoyed tending flowers and playing cards with family and friends. Jean enjoyed hosting dinner parties, especially family occasions that included a special dessert.
To plant a tree in memory of Mae Harris as a living tribute, please visit Tribute Store.