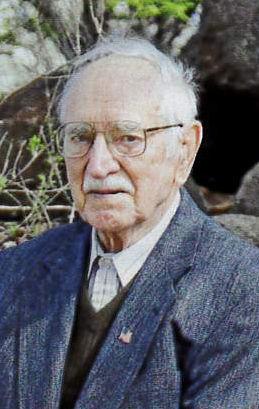 PLAINFIELD -- James W. Miller, 96, of Plainfield, died Wednesday, Jan. 9, at Shell Rock Health Care Center, Shell Rock.
He was born Feb. 15, 1922, near Horton, son of Josephine and Arthur Miller. He married Clara M. Frey in 1945. She preceded him in death in 1985.
After graduating from Alpha Community High School, he attended machinists school in Milford. He was an aviation machinist's mate in the Navy during World War II. Jim farmed and worked at Oliver Co. for a short time before being appointed Plainfield postmaster. He retired from the Postal Service in 1979. Jim later went back to work at Koehring Corp. in Waverly.
As a life member of the National League of Postmasters, and state chairman for several years, he was once honored as National Postmaster of the year. He also served on the Plainfield School Board and Plainfield Fire Department, several years as chief. He is the last of the original members of the Bremer County Conservation Board where he served for 24 years. As a "life member" of the VFW, he was past Commander of Post 2208, Waverly. 
Survived by: two sons, James A. (Jennifer) Miller of Longmont, Colo., and Kenneth D (Carolyn) Miller of Houston; two sisters, Blanche Miller of Boston and Martha (Rupert) Caballero of Waukon; and many nieces and nephews.
Preceded in death by: his wife; his parents; a brother Martin; and two sisters, Harriett Nitcher and Marian Keegan. 
Celebration of Life services: 10:30 a.m. Tuesday, Jan. 15, at Kaiser-Corson Funeral Home, Waverly, with military rites provided by the Waverly Area Veterans Honor Guard in the Willow Lawn Cemetery in Plainfield. Visitation is 4 to 7 p.m. Monday, Jan. 14, at Kaiser-Corson Funeral Home in Waverly.
Memorials: to the Waverly Area Veterans Post or Bremer County Conservation.
In 2002 Jim started an effort to place the Sullivan Brothers on the Iowa Commemorative Quarter issues in 2004. Though it was not selected, Jim felt satisfied in knowing it increased the awareness of past military sacrifices and helped to rekindle the feeling of patriotism across the state.