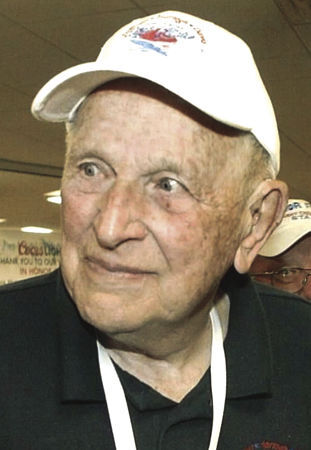 DUNKERTON — J. Russ Walker, 90, of North East, MD, formerly of Dunkerton, died at his home on Sunday, July 5, 2020.
James Russell Walker was born August 12, 1929, in Sumner, the son of Lloyd E. Sr. and Elsie Cowley Walker. He graduated from Sumner High School in 1947. He served in the United States Army during the Korean War (1951-1953), transferred to the Army Reserves and honorably discharged in April 1957. He was a member of Dunkerton American Legion Post #636.
Russ married Mary Elizabeth Veasey in 1953; she died November 19, 1958. He married Patricia Jones on July 9, 1960, in Waterloo.
He was a route salesman for Altstadt & Langlas Baking Co. in Waterloo, retiring in 1986 after 38 years.
Russ was an active member of First Baptist Church in Dunkerton serving as deacon, church treasurer, and participated in Saturday Men's Prayer Group. He was a skilled woodworker and created bedroom sets, restored furniture, and made over 58 cedar chests which are located all over the world. He enjoyed the outdoors and trout fishing. Above everything, family meant the most to him and their time spent together.
He is survived by his wife, Pat; three sons, Steve (Tammy) and Randy (Ann)' both of Waterloo, and Greg (Danita) of North East' MD; two daughters, Lynn (Scott) Harrell, Inola, OK and Donna Page, San Diego, CA; 12 grandchildren: Alesha (Ski) Walker, Amy (Devin) Short, AmberLee (Chris) Leitsch, Alex (Shaun) O'Donnell, June Walker, Rachel Walker, Joshua (Mary) Walker, Jesse Walker, Jordan Walker, Whitney (Shawn) Boike, Dawson Walker, Michelle Layman, Jenny Randall and Hannah Canfield; 19 great grandchildren: Naomi, Christian, Elijah, Alexis, Parker, Addison, Jaiden, Elias, Abreah, Emma, Kellen, Vincent, Violet, Silas, Elliott, Everett, Lilly, Braydon, and Trevor; three great-great granddaughters, Nevaeh, Nalaya and Payton. Russ is preceded in death by his parents; stepmother, Ruth; his first wife; a son, Michael; two granddaughters, Ashley Walker and Joanna Randall; great grandson, Dalton; two sisters, Catherine Carney and Marie O. Walker; and four brothers, Lloyd E. Jr., Paul, Stanley, and Harold.
Funeral Services were held 10:30 a.m. Monday, July 20, 2020 at Locke Funeral Home, 1519 West 4th St, Waterloo.
Burial in Garden of Memories Cemetery, Waterloo with military rites by Iowa Army National Guard Funeral Honor Guard and the Dunkerton American Legion Post #636.
Memorials may be directed to First Baptist Church 101 W Sycamore St, Dunkerton, 50626 or to Cedar Valley Hospice, 2101 Kimball Ave #401, Waterloo, 50702. Condolences may be left at www.LockeFuneralHome.com. Cards sent to the funeral home will be forwarded to the family.
Obituaries Newsletter
Sign up to get the most recent local obituaries delivered to your inbox.