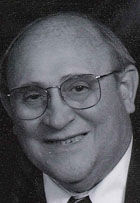 CEDAR FRALLS -- Gary J. Lettow, 76, of Cedar Falls, died Sunday, Dec. 28, at UnityPoint Heath-Allen Hospital, Waterloo.
He was born Jan. 28, 1938, in Eldora, son of Emil H. and Leah Johnson Lettow. He married Lucille Ziesman on July 25, 1964, in Hubbard.
Gary graduated from Eldora High School, Eldora, in 1956; the University of Iowa in 1964, and received his master's degree in music education in 1967 from the University of Missouri, Columbia. He was an instrumental music instructor in the Y-J-B Schools at Bagley; Columbia Schools, Columbia, Mo., and retired in 1997 after teaching 30 years in the Cedar Falls schools. He also served in the U.S. Army in Korea and retired from the U.S. Army Reserves in 1992. He was a member of Nazareth Lutheran Church, where he ushered, played in the bell choir and volunteered in the library.
Survived by: his wife; a son, LCDR Karl (Heather) Lettow of Norfolk, Va.; and three grandchildren, Logan, Chloe and Layton Lettow.
Preceded in death by: his parents; and a half brother, Charles J. Hartman.
Services: 10:30 a.m. Saturday at Nazareth Lutheran Church, Cedar Falls, with burial at 2 p.m. in Eastlawn Memorial Garden Cemetery, Eldora. Visitation from 4 to 7 p.m. Friday at Dahl-Van Hove-Schoof Funeral Home, Cedar Falls.
Memorials: may be directed to the church, the Cedar Falls Municipal Band or the Wounded Warrior Project.
Gary was a Civil War scholar who saw to it that many veterans' graves were identified and marked. Until recently, Gary performed in the Cedar Falls Municipal Band, Marengo Civil War Band, UNI Horizons Band and the Iowa Veterans Band.