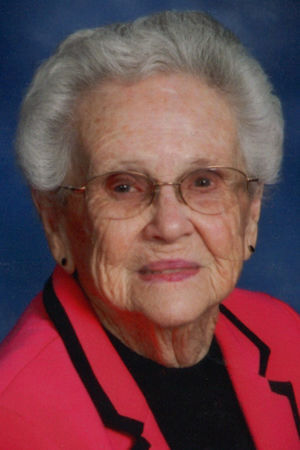 March 1, 1924-April 1, 2021
Eleanor Tjepkes was welcomed to her heavenly home as she passed away peacefully, surrounded by family the afternoon of April 1, 2021, in Excelsior, Minnesota, due to complications of a recent stroke. Eleanor was born March 1, 1924, in Reinbeck, Iowa, daughter of Raynard and Sybil McGowan. She married Glenn William Tjepkes July 25, 1947, in Waterloo, Iowa.
Eleanor attended country school through 6th grade, moved on to junior high and graduated from Reinbeck High School in Reinbeck, Iowa. She continued her education at the American Institute of Business (AIB) in Des Moines, Iowa, with a degree in business administration. Eleanor and Glenn lived in Indianola, Iowa, for several years, returning to Waterloo to raise their family. Starting when the children were junior high school age, she worked at Gibson Specialty Co. for many years.
Bethel Presbyterian Church, now Unity Presbyterian Church, was her church home where she served as a Deacon, as a Sunday School teacher, in the Women Presbytery and as a bell choir member for most of her life. She served as a volunteer for many years delivering food to those in need through Meals on Wheels. While her children were in elementary school she was often found helping within the school and served several terms as parent teacher organization (PTO) President.
Eleanor was an avid golfer and spent many days on the golf course with her "golfing buddies" after she retired. Eleanor was a devoted wife, mother, grandmother, great-grandmother, sister, aunt and friend. She loved playing games of Rummikub with her grandchildren and most recently with her newly found friends at The Waters of Excelsior in Minnesota, where she moved in 2019. She especially loved being with her family and treasured the times she had with all of them. Her faith in God was demonstrated throughout her life by her strength, her prayers, her service and her unconditional love. She will be missed and forever remembered with great admiration and love.
Survivors include: two sisters, Rachel (McGowan) Crawford and Ruth (McGowan) Hayes; one daughter, Jean (Steve) Polston of Excelsior, MN; a son-in-law, Richard (Deanna) Snyder; a daughter-in-law Lynne Tjepkes; five grandchildren, Philip Snyder, Kristen (Tony) Bockenstedt, Jacob (Stephanie) Tjepkes, Kelly (Greg) Bollinger and Jessica (Trey) Davis; and five great-grandchildren, Anthony Bockenstedt, Quinn, Lacey & Rhett Bollinger, and Eleanor Davis. Preceded in death by: her parents, Raynard & Sybil McGowan; her husband, Glenn W. Tjepkes; a daughter, Jane (Tjepkes) Snyder; a son, William "Bill" Tjepkes; and two brothers-in-law, Harold Crawford and Don Hayes.
A Celebration of Life will be held at 11:00 a.m. Saturday, April 10, at Unity Presbyterian Church with a private family burial at Garden of Memories Cemetery. Visitation will be held from 9:30 a.m. until service time at the church. Hagarty-Waychoff-Grarup Funeral Service on West Ridgeway oversees arrangements.
Memorials may be directed to the church.