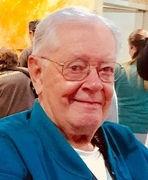 WATERLOO -- Dale E. Stoner, 87, of Huber Heights, Ohio, formerly of Waterloo, died Aug. 1 while at Miami Valley Hospital in Dayton, Ohio.
He was born Aug. 12, 1930, in Waterloo, son of Clarence and Maybelle (Davis) Stoner. He married Elizabeth (Joan) Morgan in Dayton.
He graduated from Open Bible College in Des Moines, became a licensed minister and moved to Dayton in 1955 to serve as assistant pastor at the First Church of the Open Bible of Dayton. While serving many years of church service, he became employed by the Kroger grocery store, and retired from the dairy department.
Survived by: a grandson, Jeffrey Stoner II of Fresno, Calif.; and a sister, Harriet (Dick) Lewis of Waterloo.
Preceded in death by: his parents; his wife; an infant daughter; his son, Jeff Stoner, and a sister.
Services: were Aug. 6 at Blessing-Zerkle Funeral Home, Tipp City, Ohio, with burial in Glen Haven Memorial Gardens, New Carlisle, Ohio.
Memorials: may be directed to the First Church of the Open Bible, 4990 Old Troy Pike, Dayton, OH 45424.
Dale was a faithful and active member of his church, loved the Lord, and was loved by his church family and friends. He was close to his pastors Gary and Angie Petersen and to some special ladies – Linda, Beulah, Faye and Ruth. He is now rejoicing with his Lord and Savior.